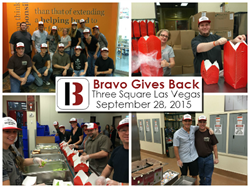 It's nice as a company to be able to give back to the community.
Las Vegas, NV (PRWEB) September 29, 2015
On Monday September 28, 2015, employees from Bravo Pawn Systems volunteered their time at Three Square Las Vegas, a food bank that helps provide food assistance to local residents. Three Square's mission is to strive for a hunger-free community and offers a wide array of food bank services from filling backpacks with weekend food for children to boxing meals for senior citizens.
In particular, Bravo employees took part in an assembly line to pack meals that will be delivered to after-school programs with children who are currently enrolled in either free or reduced-rate lunches. Among all of the volunteers that were at Three Square on Monday morning, 8,500 meals were assembled to help ensure that these children have an after-school meal and that they will never have to go hungry.
Steve Mack, Founder and CEO of Bravo Pawn Systems says, "It's nice as a company to be able to give back to the community. Now I can successfully say that I'm well versed in the various aspects of how to assemble 8,500 boxed meals in just a few hours!"
About Three Square:
Three Square's mission is to provide wholesome food to hungry people, while passionately pursuing a hunger-free community. They combine food banking (warehousing canned and boxed goods), food rescue (obtaining surplus or unused meats, bread, dairy and produce from hospitality and grocery outlets), and ready-to-eat meals to be the most complete food solution for Southern Nevada.
About Bravo Pawn Systems:
Bravo Pawn Systems believes in the success of the pawn industry and strives to see pawnshops grow and compete with the national big box stores. Developed by a 4th generation pawnbroker specifically for pawnbrokers, Bravo helps companies find solutions to challenges they face with day-to-day operations. Bravo has accommodated new business startups to Fortune 1000 clients. Bravo multi-tenant currently can accommodate 65 countries.