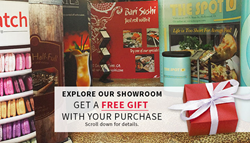 ...we have been noticing many more first time exhibitors making their way to the show floor. We wanted our gifts to complement each customer's purchase and ensure that they would have the perfect starter kit into the trade show industry. - Zenos Adduru
Tustin, CA (PRWEB) September 29, 2015
Displays & Exhibits has recently completed remodeling their online store. While this type of change would typically have no effect on the physical location for an eCommerce website, a key focus during this renovation was an increased emphasis on the company's showroom to draw in local Orange County residents.
The website now features a dedicated page on the toolbar that links to information about touring the showroom. For a limited time, customers who tour the showroom will also qualify for a free gift after purchase. The sales team at D&E carefully weighed their decision before finalizing each gift and considers each and every one of them to be a trade show essential.
"As the season starts again, we have been noticing many more first time exhibitors making their way to the show floor", says eCommerce Manager Zenos Adduru. "We wanted our gifts to complement each customer's purchase and ensure that they would have the perfect starter kit into the trade show industry." Mr. Adduru recommends the Promotional Products Association International (PPAI) Expo as a great primer into the industry.
"PPAI is a show centered on promotional products and by walking the floor you can immediately get a sense of how important branding is to building your business." PPAI has been around for over 100 years, since 1904, and has remained a cornerstone for networking and meeting likeminded professionals in the trade show industry. The upcoming PPAI Expo will take place January 10-14 in the Mandalay Bay Convention Center in Las Vegas, Neveda.
About Displays & Exhibits:
Displays & Exhibits is a division of Absolute Exhibits, Inc. - a leader in the trade show industry with multiple full service exhibit houses located around the globe. The division started in the wake of Absolute Exhibits' success as a means to educate and serve first-time exhibitors in ins-and-outs of the trade show industry. The company is located in Orange County, California where they host a showroom that is open to the public with an appointment.
About Absolute Exhibits:
A leading exhibition firm, Absolute Exhibits provides clients with turnkey solutions for designing and fabricating exhibits while managing the entire trade show experience as a one-source trade show and convention exhibit resource. Established in 2000, with locations in Southern California, Las Vegas, Orlando, and Bucharest, Romania, Absolute Exhibits rents and sells custom and system exhibits at over 300 shows in the USA and in countries around the world.