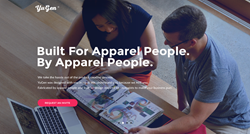 Yugen is a visual communication tool for a very visual industry
Portland, Oregon (PRWEB) October 01, 2015
MobiTen is pleased to announce that Exit 21 Apparel Solutions is the first Apparel Company signed to pilot YuGen, MobiTen's newest software solution that automates the Product Creation Process for the Apparel and Soft Goods Industry.
"There is an overwhelming amount of PDM or PLM system options out there. But none speaks to or is affordable to small and medium sized apparel businesses like ours. And not one has been universally accepted by the Apparel Industry" says Erick Siffert, Founder of Exit 21. "YuGen is the amalgamation of 20 years of tech experience creating ERP and PLM solutions for Northrup Grumman and Toyota." Leon Yeh, CEO of MobiTen says. "With the latest advancements in mobile developments and cloud based technologies, YuGen is the most advanced solution I've created." Yeh adds. YuGen is accompanied by a powerful app, currently only available for iPhone.
During the Software build, MobiTen extensively consulted with Industry experts, Material Managers, Product Developers, Tech Designers and Designers to create a system that follows apparel industry best practices to ensure YuGen will work for any size apparel business.
YuGen utilizes latest Cloud based software technology and security to free apparel companies from spread sheets, streamline the product creation cycle and minimize costly errors. While a powerful engine takes care of complex tasks in the background, the user interface is easy and intuitive to navigate. Yugen is a visual communication tool for a very visual industry. "Besides the bill of material and measurements we have to use a lot of imagery to get the product to commercialization" Tracy Allison, Independent Product Developer at Exit 21, adds. "This is a system I actually want to use".
About MobiTen: MobiTen is a Portland, OR based mobile technology company, focused on mobile enterprise solutions for Fortune 1000 companies.
Our newest product, YuGen was specifically designed for the needs of apparel product creation and is now available as paid pilot at http://www.getyugen.com Clients include Karcher, CH2M Hill, Fortis Construction and Northrop Grumman.
About Exit 21: Exit 21 is a Portland, OR based full service Apparel Design, Development and Sourcing Agency with a focus on Performance and Outerwear product. Clients include Backcountry, Poler, Alps&Meters, Handful,Trek and others. http://www.exit-21.com