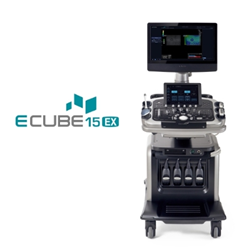 St. Cloud, Florida (PRWEB) October 02, 2015
SonoDepot is busily spreading the word about the latest in the renowned E-CUBE Series, the E-CUBE 15 EX. Earlier this month, the company attended the North Carolina Biomedical Association Conference and the Baptist ECHO Symposium in Doral, Florida.
SonoDepot is the exclusive distributor and ultrasound service provider for ALPINION in three U.S. markets: Florida, Colorado and Western North & South Carolina.
ALPINION's newest ultrasound system, the E-CUBE 15 EX, boasts specialized transducers intended for general imaging, women's health and cardiology. The most recent development in transducer technology reduces exam time and patient discomfort while highlighting fine details with high resolution. A particulary valuable asset early in the first trimester and in gynecolegoical exams, the Endovaginal transducers (EV3-10X, EC3-10X) yield the world's widest-angle - a maximum field of view of 230 degrees - providing more anatomical information in a single view.
The durable, ergonomic system was also developed for investigation of the vascular system, small body parts and musculoskeletal exams. Maximized 3-D/4-D image quality is achieved by combining Live HQ and anatomical realism, a moveable light source and ALPINION's unique, signature single crystal acoustic technology.
With its user-friendly design, the E-CUBE 15 EX offers real-time scanning and customization options. The touchscreen, application-focused exam presets, and intuitive user interface create an the E-CUBE 15 EX an enhanced user experience.
Known for its best-in-class ergonomic design, powerful imaging technology, and advanced automation for fetal
and cardiac monitoring, professional sonographers and non-specialists alike can easily incorporate the E-CUBE
15 EX into their daily routine.
About SonoDepot
Floyd McAuliffe, Founder and President along with his brother Jack McAuliffe, CEO, are the owners of SonoDepot and trailblazers of OEM-Independent Ultrasound Support providing superior service to healthcare providers in the U.S. since 1985. SonoDepot, based in Central Florida, is an exclusive sales and service provider for the revolutionary Alpinion Ultrasound product line featuring E-CUBE. The company also proudly repairs, services and sells the industry's most respected brands including GE, Philips, HP, and Siemens. SonoDepot's services include ultrasound repair, transducer repair, probe evaluation and maintenance. They are retailers of both new and refurbished ultrasound systems. With a rapid 15-30 minute response time and 24/7 nationwide service, SonoDepot is keenly focused on customer service. In fact, 90% of SonoDepot's ultrasound repair clients are repeat customers who refer colleagues.