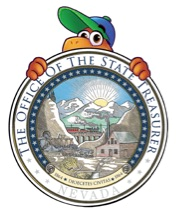 Carson City, NV (PRWEB) October 03, 2015
On Monday, the Nevada Treasurer's Office announced a historic statewide bus tour to promote the many programs it administers to help Nevadans afford and pay for a college or trade school education.
"Far too many Nevadans overlook the opportunity to get a college education. We believe that an education plan after high school including a degree from a 4-year institution or 2-year community college or trade school will be essential for success in the 21st century. The Nevada State Treasurer's Office provides several college savings options, and most are very highly ranked nationally," said Dan Schwartz, Nevada State Treasurer. "We're also introducing Sage, our college savings mascot, who will accompany the bus."
The bus will tour Nevada during the month of October through early November, visiting all corners of the state, including many schools. The tour is part of the outreach campaign that was launched in July by the Nevada State Treasurer's Office to promote a college-bound culture in Nevada.
At all of the stops, State Treasurer's Office staff will be available to discuss the programs offered by the Office. In addition to Section 529 college savings plans, the Nevada Treasurer's Office is also responsible for the Governor Guinn Millennium Scholarship Program, Nevada College Kick Start, the Education Savings Program and the State's Unclaimed Property program.
"Nevada has incredible college savings plans with unique benefits for Nevada residents. My hope is that once people discover our programs more will take advantage of them," said Dan Schwartz, Nevada Treasurer. "Saving for college is just as important as good grades in preparing for higher education."
A full schedule of bus stops is located at http://nv529.org.
###