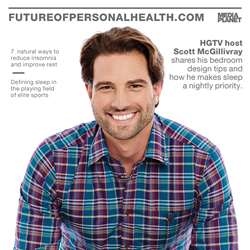 Sleep is an essential and vital component of our health and overall wellbeing
New York, NY (PRWEB) September 30, 2015
This campaign will clarify the preventative measures that one can take daily to increase the quality and quantity of sleep. Sixty-two percent of American adults experience trouble sleeping at least a few nights per week, which can cause serious side effects on a person's health, and will often times go completely untreated for years. The companies, organizations, and researchers dedicated to improving sleep need to band together to make a true impact and help those who are experiencing lack of sleep or a particular sleep disorder to actively make a change and seek help.
The print component of "Sleep Sensitivity" is distributed within today's edition of USA Today in New York, Los Angeles and Washington DC/Baltimore, with a circulation of approximately 250,000, and an estimated readership of 750,000. The digital component is distributed nationally, through a vast social media strategy, and across a network of top news sites and partner outlets. To explore the digital version of the campaign, click here.
This edition of "Sleep Sensitivity" was made possible with the support of Philip Stein, a company that creates timepieces and bracelets using their proprietary Natural Frequency Technology in order to improve one's wellbeing and quality of life. The Philip Stein Sleep Bracelet was designed to help people sleep better and wake up more refreshed.
"Sleep is an essential and vital component of our health and overall wellbeing," said Will Stein, founder of Philip Stein. "Through the Philip Stein Sleep Bracelet, wearers are more likely to experience a maximum amount of rest in an all-natural way—recent studies on a human cell line showed that when exposed to our technology the natural production of melatonin increased."
This campaign was made possible with the support of the American Academy of Sleep Medicine, the International Sleep Products Association, the Centers for Disease Control and Prevention and many more.
About Philip Stein
Philip Stein is a luxury wellbeing lifestyle company, which aims to offer a way to live in tune in a fast-moving world. Known for creating high-quality accessories and noted for incorporating wellness into its product line, Philip Stein embeds Natural Frequency Technology into its fine iconic watches and bracelets to help improve sleep, reduce stress and enhance overall wellbeing. Philip Stein timepieces are sold globally and are available in 4 collections: Prestige, Classic, Signature, and Active, as well as day and nighttime bracelets, such as the Horizon Bracelet and Sleep Bracelet. Each Philip Stein product is the perfect marriage of luxurious design and natural wearable technology. A clear example that responsible luxury is luxury with a purpose, they are available online and throughout watch and jewelry stores nationwide. For more information, or to find a retailer near you, visit philipstein.com.
About Mediaplanet
Mediaplanet is the leading independent publisher of content-marketing campaigns covering a variety of topics and industries. We turn consumer interest into action by providing readers with motivational editorial, pairing it with relevant advertisers and distributing it within top newspapers and online platforms around the world.
Press Contact:
Ilana Schulder
Senior Publisher
Ilana(dot)schulder(at)mediaplanet(dot)com
646-979-2832
Pam Wadler
Trent & Company
pam(at)trentandcompany(dot)com
212.966.0024