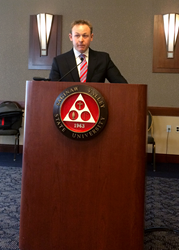 "The Fortis4Vets employment initiative honors the qualifications of the men and women who serve and have served their country.
(PRWEB) October 01, 2015
Addressing a strategic alliance of business, government and military leaders from the Saginaw Bay Region, Nathan Conway, CEO of Fortis Energy Services spoke about the company's award-winning Fortis4Vets hiring initiative. At the summit were representatives from ESGR, (Employers Support for Guard and Reserve), Michigan Veterans Employment Council, Michigan Works, Michigan Oil and Gas Association, Michigan Chamber of Commerce and others, to discuss the urgent need of absorbing 50,000 returning veterans into the state's economy over the next three years.
Bart Buechner, the Vice-chair of Michigan's ESGR lauded the leadership role that Fortis Energy Services has taken in advancing veteran employment. "We want to acknowledge employers such as Fortis Energy Services. They have been exemplary in demonstrating corporate engagement by developing their Fortis4Vets hiring initiative. We hope that more Michigan based companies will follow their lead."
"We are very proud to be regarded as a model employer by the ESGR," stated CEO Nathan Conway. "The Fortis4Vets employment initiative honors the qualifications of the men and women who serve and have served their country by providing good employment opportunities. The majority of Fortis employees are Michigan residents. Today approximately 10% of the Fortis workforce is made up of veterans. As a business owner, I can to tell you that hiring veterans makes good business sense and is the right thing to do."
As a participant in the keynote panel, Erin McDonough, Executive Director of the Michigan Oil and Gas Association reinforced her industry's commitment to veteran hiring and discussed the critical role that the energy sector plays in the state's economy stating, "Energy is vital to our state's economy. It fuels manufacturing and creates jobs. The oil and gas industry is a major employer. More than 8,000 Michigan workers are employed directly in the Michigan oil and natural gas production industry. Additionally 37,848 Michigan jobs are provided by production related activities and its economic contribution could grow to $4.1 billion if our industry is supported by sound energy policies."
About ESGR
Employer Support of the Guard and Reserve (ESGR) is a Department of Defense (DoD) office that develops and promotes supportive work environments for service members in the Reserve Components through outreach, recognition, and educational opportunities that increase awareness of applicable laws and resolves employer conflicts between the service members and their employers.
ESGR has served our country for more than 40 years, fostering a culture in which all employers support and value the employment and military service of members of the National Guard and Reserve in the United States. ESGR is supported by a network of more than 4,700 volunteers in 54 committees located across all 50 states.
About Fortis
Fortis Energy Services, Inc. is a leading oil and gas well service company in the USA, providing oil and gas well services throughout the production life cycle. Fortis' safety culture sets them apart as a leader in the industry. Quality people and quality work contribute to Fortis' exceptional growth rate. A well-maintained fleet combined with highly experienced professionals has enabled Fortis to establish strong customer relationships and an excellent safety record.
For Info contact: Nancy Thompson 248-496-4965 nthompson(at)fortisenergyservices.com