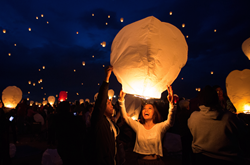 People develop an emotional connection with this event
Salt Lake City, UT (PRWEB) September 30, 2015
Families and friends are gathering all over the country to witness a fleet of sky lanterns floating into the night. The Lantern Fest's fall season is in full swing, equipped with a new stage show, kids' entertainment, and of course, thousands of beautiful lanterns. Each unique event promises its thousands of participants a night to remember.
"People develop an emotional connection with this event," said Lantern Fest spokesperson Amy Gessel. "It is not often you feel so unified with your community, and so small as you marvel at such a magnificent spectacle."
The memorable event has already stopped in Omaha, Salt Lake City, Kalamazoo, and the Pocono Mountains. The family-friendly festival brings face painters, princesses, s'mores, live music, competitions, and more to each location, providing children with playtime before the breathtaking lantern launch.
This season has also introduced a new partnership with Angels of America's Fallen, a nationwide charity organization that honors fallen military, police, and first responders by providing programs to help their children succeed. They provide funds and/or supplies for positive mentoring and developmental activities catered to each child.
"We could not be more excited about the partnership between Angels of America's Fallen and The Lantern Fest," commented Joe Lewis, Founder and CEO of Angels of America's Fallen. "There is an undeniable sense of wonder in seeing the night sky lit up with thousands of floating lanterns. This is only enhanced in knowing that each participant is helping Angels of America's Fallen stand by the children of our fallen as part of their registration fee."
As the Lantern Fest tour continues, upcoming events include Albuquerque, Colorado Springs, Reno, Cincinnati, and Fayetteville. Event organizers anticipate thousands of revelers will join the festival. All are welcome to register at http://www.thelanternfest.com, and to see what fans have to say on Facebook.
About The Lantern Fest
Historically, Chinese Lanterns have been were used to symbolize good fortune, request favorable weather and to celebrate the lives of a loved ones. In 2015, The Lantern Fest transformed this ancient tradition into a family-friendly festival. There is food, music, s'mores, children's entertainment, and, when the sun goes down, lanterns light the sky in one spectacular release.