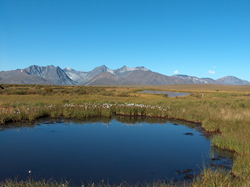 As I write this, the Aurora Borealis is currently dancing across the night sky. I have no words to explain how incredibly beautiful and breathtaking it is!
Boston, MA (PRWEB) September 29, 2015
Two New York City teachers are on an 11-day expedition with Earthwatch researchers to study climate change in Churchill, Manitoba, the "polar bear capital of the world." Making this expedition unique is that the teachers are reporting what they see and learn "live" to their classrooms using video conferencing technology -- sharing the excitement of field research in real time with their students back home.
The teachers, Andrea Henkel, a 7th Grade English Teacher at Quest to Learn School in Manhattan, and Candace Miller, a 9th Grade Physics Teacher at The Brooklyn Latin School, join nine other Earthwatch volunteers for the expedition, which runs September 22 – October 2, 2015.
"'Live from the Field' is such an inspiring program," said Earthwatch CEO Larry Mason. "It enables the teachers – working side-by-side with leading scientists -- to inspire their students with stories fresh from the field research site, invigorating their classrooms with the excitement of science and discovery."
The teachers do not need any prior training; they are taught all they need on site. The research tasks require them to don waist-high waders to take water samples; to explore the site to assess the abundance of the fish and frogs in these northern wetlands; to monitor the tree line, which could be shifting in response to the changing climate; and more.
"On this particular expedition, climate change is right in front of you – not just something you read about in the headlines, and the teachers contribute directly to the data collection effort," Mason said. "We'd love to be able to extend these opportunities to teachers around the globe."
The teachers' involvement on this expedition is part of Earthwatch's "Teach Earth" program and is made possible by a new partnership with Kiwi Energy.
"Achieving sustainability is one of the greatest challenges of all time, and we are thrilled to support a program that inspires teachers and their students in our community here in New York to new levels of understanding and action," said Nikki Clark, Vice President of Marketing and Development for Kiwi.
In addition to their occasional lessons using video conferencing, the teachers are maintaining blogs to document their expeditions:
https://andreasearthwatchblog.wordpress.com/ (Andrea Henkel)
http://bio-biome.weebly.com/blog-live-from-churchill (Candace Miller)
Here's an excerpt from Miller's blog:
"As I write this, the Aurora Borealis is currently dancing across the night sky. I have no words to explain how incredibly beautiful and breathtaking it is! I was the first one to notice it as I raced up to the Aurora Observatory room as soon as lecture ended tonight. The green hue started as a small (and weird-looking) cloud. I was confused for a second, and then I realized what it was. For the past two hours I have been both indoors and out with my nose to the sky, being thoroughly mesmerized by this amazing celestial phenomena."
Additional information:
Expedition info:
http://earthwatch.org/expeditions/climate-change-at-the-arctics-edge
Multimedia story about the expedition:
http://multimedia.earthwatch.org/treesinthetundra
Teach Earthwatch program:
earthwatch.org/teachearth
Earthwatch Institute (earthwatch.org) is an international nonprofit organization that connects citizens with scientists to improve the health and sustainability of the planet. Since its founding in 1971, Earthwatch has empowered nearly 100,000 volunteers from all walks of life to join leading scientists on field research expeditions that tackle critical environmental challenges around the globe – from climate change to ocean health, human-wildlife conflict, and more. Earthwatch works with all sectors of society, from corporations to teachers, students, community leaders, zoos and aquaria, and more.