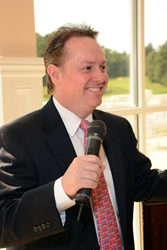 Master of ceremonies Paul Casale, Jr., a fourth-generation Welch family member told the crowd, "We feel honored that you have made the decision to make your home with us."
Weymouth MA (PRWEB) September 30, 2015
This year's National Assisted Living Week Theme, "Nourishing Life: Mind, Body, Spirit" is a perfect way to describe the annual Assisted Living Luncheon held by Welch Healthcare and Retirement Group in celebration of the Allerton House Assisted Living community's residents and staff. With the sounds of the Paul Weller Band in the background, master of ceremonies Paul Casale, Jr., a fourth-generation Welch family member told the crowd, "We feel honored that you have made the decision to make your home with us." Casale, Jr. credited his grandparents, Mrs. Rita Welch and her husband, Frank, with creating the senior housing and services company more than 65 years ago, with the mission of providing compassionate nursing care to frail elders.
National Assisted Living Week (September 13-19, 2015) was established by the National Center for Assisted Living® (NCAL) in 1995. According to NCAL, the week and this year's theme evoke the many ways residents are nurtured by their caregivers. The theme also demonstrates the countless ways residents enrich the lives of those around them.
The annual celebration by the Welch Group was held at the Indian Ponds Country Club in Kingston, MA. Following his remarks, Casale, Jr. turned the proceedings over to guest speaker, certified personal trainer and Chaboom Instructor Lauretta Jennings. Chaboom is a 50-minute chair exercise program that involves upper and lower body movement – all while participants are seated. Jennings wasted no time, encouraging residents to celebrate the day and the joy of movement, either in their seats or on the makeshift dance floor.
The family-owned Welch Group offers five assisted living communities along the South Shore, in Duxbury, Hingham, Marshfield, Quincy and Weymouth. The company has grown to encompass six nursing and rehabilitation centers, two memory care assisted living communities, three adult day health centers and two independent living communities, one of which is the only continuing care retirement community from Boston to Cape Cod offering garden homes. For more information about Welch Healthcare and Retirement Group visit online at: http://www.welchhrg.com