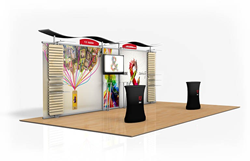 You can never be too over the top or flamboyant on the show floor as long as an exhibitor stays tasteful and professional. Competition is across the aisle or around the corner, let us help you seize your moment. - Zenos Adduru
Tustin, CA (PRWEB) September 29, 2015
Displays and Exhibits, a pre-eminent online retailer of trade show booth displays and imprinted accessories, and a one stop shop for all entry level trade show exhibitors announced a 30 day free shipping through October 31, 2015 to company or hotel addresses in the USA. Displays & Exhibits offers a large selection of branded marketing tools and accessories, including banner stands, hanging signs, table covers, furniture, flooring, and more. Working hand-in-hand with exhibitors from small to large organizations across the country and providing top quality trade show booth materials that deliver results time and time again D&E is ready to help last minute shoppers capture the attention they deserve on the show floor.
"Trade show exhibitors get three to five seconds to stop show attendees in front of their ten foot booth space. If an exhibitor has not sent a preshow invitation to stop off, more than likely an attendee has an agenda and will not hesitate to walk on by. Without extra lighting, great signage, a predominant product display, attendees will just keep going," said E-Commerce Manager Zenos Adduru, in response to the question of why does Displays and Exhibits offer so many exhibiting add-ons on his website.
He continues, "You can never be too over the top or flamboyant on the show floor as long as an exhibitor stays tasteful and professional. Competition is across the aisle or around the corner, let us help you seize your moment."
Take advantage of this branding promotion, for more information call (888) 282-8858 or visit http://www.displaysandexhibits.com.
About Displays and Exhibits
Displays and Exhibits is a division of Absolute Exhibits. Established in 2000, Absolute Exhibits began as a portable/modular distributor, and now rents large custom exhibits at over 300 shows in the USA and in countries around the world.
Displays & Exhibits was created to serve the needs of first-time exhibitors, seasoned exhibitors that go to multiple local, regional, national and international shows and clients that do community work, in-house events, fairs, and festivals. The company offers portable banner stands, display boards, digital kiosks, display lights, display signage, and exhibit furniture.