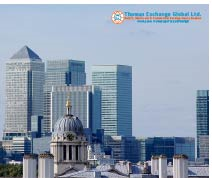 Upon becoming the world's top financial centre, London bumped New York down to second place in the recently published rankings.
London, UK (PRWEB UK) 1 October 2015
London surpassed New York as the leading global financial centre in 2015 as recently reported in a September 23rd article published by City A.M. In return, foreign currency specialist Thomas Exchange Global offers city workers superior travel money rates and an expanded branch network—confirming Reuters' claim in a 2014 article that bureau de change booths offer better exchange rates than banks and are consumers' preferred source in the U.K.
Upon becoming the world's top financial centre, London bumped New York down to second place in the recently published rankings. Thomas Exchange Global's announcement is welcomed as the perfect complement to the news—with its extensive network of 11 branches located throughout London offering the best travel money deals to city residents for their business and holiday travel.
"London became the world's leading financial centre after wrestling back the top spot from New York," reported City A.M. in its 23rd September publication. The report was based on the Global Financial Centre Index (GFCI)—rankings that assess key factors about each of the 98 business districts evaluated around the world. A few of the factors mentioned in City A.M.'s report include "a city's business environment, infrastructure, and the quality of its human capital and financial sector development." According to City A.M. London now ranks #1 in all categories of the assessment after two years of ranking below NYC.
Currency specialist Thomas Exchange Global has just announced the most competitive travel money deals in line with London's recent recognition and achievement. The establishment moreover has provided city workers with quick and easy access to travel money by offering 11 different London-based branches—9 of which are located central within the city.
"As Reuters previously identified in a July 2014 publication, the majority of our branches are located in the financial district and in conjunction, most of our customer base comes from major dealing rooms and trading houses with an extensive knowledge in foreign exchange. We are very proud to report that many of our most loyal customers come from some of the world's largest bank note dealers," stated Trevor Samuel, Senior Manager of Business Development at Thomas Exchange Global.
Thomas Exchange Global stocks the widest range of foreign bank notes with 120 different currencies and no prior arrangement required to purchase travel money at any of its branches. Additionally, the renowned currency specialist doesn't charge any commission for the purchasing or selling of its travel money—with all exchange rates openly displayed at each branch with real-time updates.
"We are delighted by London's recent achievement. It reflects the economic success of our city and the value of our customers across Square Mile, Westminster and nearby areas," claimed Samuel. "We are fully geared to offer the best travel money deals to Londoners and will continue to support our city's thriving economy by presenting its hard-working residents with superior exchange rates."
About Thomas Exchange Global:
As dedicated foreign exchange specialists, Thomas Exchange Global has the professional expertise, in depth market knowledge, technological infrastructure, and commitment to provide an unprecedented level of service that sets the standard in the foreign exchange industry. They are specialists in all areas of foreign exchange. They provide commission free currency as well as travellers cheques.
Thomas Exchange Global also offers International Money Transfer Service where funds can be remitted to overseas bank accounts within one to two days. With commission free service for transfers over £10,000 backed by competitive exchange rates, customers are assured of a better deal and a substantial saving compared to banks and money brokers.
Thomas Exchange Global branches are located at Strand, Embankment, Victoria Street, Victoria Place (Victoria Rail Station), Liverpool Street, London Wall, Hammersmith, High Street Kensington, Cannon Street, Canary Wharf, and Richmond.
For further details visit http://www.thomasexchangeglobal.co.uk, or call 020.7240.1214.