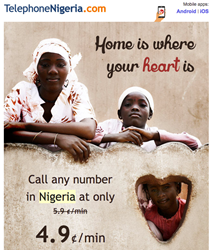 Excellent performance. Works so good, clear voice interface. (Astrolvally on Trustpilot.com)
Atlanta, Georgia (PRWEB) October 01, 2015
Nigerian expats worldwide get 17% OFF on all their calls to Nigeria on October 1st, Nigeria's Independence Day. The offer is available on TelephoneNigeria.com for people who had at least one minimum purchase of $2 on this website. The discounted rate is 4.9 ¢/min (instead of the regular 5.9 ¢/min) and can be used to call both landlines and mobiles of friends and families in Nigeria. Those who want to benefit from this promotion can open an account and get $2 credit that never expires, at http://telephonenigeria.com/rates
One needs to meet 2 conditions to benefit from the 4.9 ¢/min promotional rate:
-Anyone interested in the offer needs to hold an account on TelephoneNigeria.com. To open one on the website costs nothing and takes less than 1 minute. Plus no contract is needed to test the service or become a constant customer.
-One needs to purchase some Voice Credit before or on October 1st to benefit from the discount. Thank You points apply for this purchase, as well as for the future ones; when they amount to 1000 they can be converted into $10 Voice Credit for free international calls.
The promotion on Independence Day is meant to facilitate long-distance communication between friends and family members. In 2007 only, there were around 800,000 Nigerian migrants worldwide, many of them in the USA, UK and Germany.
There are 3 ways to make calls to Nigeria using TelephoneNigeria.com calling service known as Voice Credit:
-Calls may be placed on the go from a smartphone to any landline/mobile, using KeepCalling app for Android or iOS; The app requires 3G, 4G or WiFi Internet access.
-Calling is possible from any mobile, pay-phone or landline, using access numbers; Internet connection is not needed in this case.
-For calls from PC to phone, one can use the PC app called Web Call, available in the online account on TelephoneNigeria.com; in this case no download is needed.
For those not yet familiar with Voice Credit, this is a prepaid service for international calls at really low rates. The best thing about it is that the calling credit never expires, which is a great advantage. The calling credit rolls from one month to another without any expiration date. In consequence, the calling balance can be used whenever necessary, without any time boundary or any other extra fees.
Thank You points are awarded on each purchase on TelephoneNigeria.com. They are encouraging for new customers of the website, as well as a loyalty Bonus for existing ones. Once a TelephoneNigeria.com fan gets to 1000 points, he or she can convert them into $10 Voice Credit and start making more international calls.
Free features for optimized calls are another plus of TelephoneNigeria.com: Speed Dialing, PINless, Voice prompts and Auto Recharge. These 4 features have been created as a result of customer feedback and that is why they are highly practical. They can be found in the online account on TelephoneNigeria.com and make the website a popular one among Nigerian expats.
PINless helps skip entering the PIN every time someone makes a call, which calling cards do not. Speed Dialing helps customers make a call by pressing one digit only, since a name can be assigned to a phone digit. Voice Prompts keep one updated about the remaining balance and other account details, and Auto Recharge helps to avoid running out of credit during a telephone call.
In addition to Voice Credit, TelephoneNigeria.com offers Monthly Plans offering a rate as low as 4.9 ¢/min, and Mobile Recharges. Mobile Recharge is a service that facilitates 1 minute top ups of mobiles in Nigeria. Anyone can send credit to Nigeria and support friends and family there who use a mobile subscribed to one of the following operators: Etisalat, Visafone, MTN, Airtel and Glo. The process is fast and secure and the credit reaches its destination number instantly.
Hundreds of thousands of customers stay with TelephoneNigeria.com for several clear reasons:
-They have the lowest rates on the market for Nigeria and other destinations
-There are no hidden fees
-Voice Credit can be used anytime to call more than one international destination
-The security system is very high; the website is labeled as "Verified & Secured"
-Privacy protection is 100% guaranteed; the website is TRUSTe certified
-The Customer Support is available 24/7; it is known as very prompt and kind; the service is certified by BBB, which means it is transparent and correct
-Website navigation and the purchase process are easy
-Paypal is accepted besides all major cards for online payments, no matter the currency of the bank account
-All invoices and call log or any other account activity are available in the account at any time without additional costs
-Regular promotions are sent by email if one is subscribed to the Newsletter or has ever pressed "Get offers" button on the website
-TelephoneNigeria.com hosts the best deals on the international market addressed to Nigerian expats, whether for calls to Nigeria or top ups of mobiles in Nigeria
-For independent users, the website hosts a comprehensive Help Center
-Smartphone users can install KeepCalling app for direct phone-to-phone international calls from iOS or Android
-One gets Thank You points each month, and those points can be converted into calls to any destination in the world
-Contests, offers, tutorials and interesting articles are advertised on Facebook regularly for the large Nigerian community there: https://www.facebook.com/TelephoneNigeriacom-766464433451742/timeline/
About TelephoneNigeria.com
TelephoneNigeria.com is an interactive website designed by KeepCalling, a global telecommunication company registered in 2002 in USA. Presently, KeepCalling provides its services to hundreds of thousands of consumers and businesses, with a focus on customer satisfaction. KeepCalling has been listed by Inc 5000 as one of the fastest growing companies in the USA for 5 consecutive years. In 2015 the company registered a revenue increase of over 200% from 2011 to 2014.