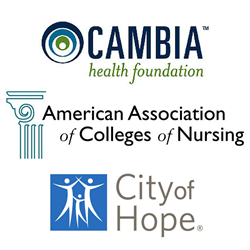 This grant is a vital step in integrating the specialized knowledge and skills of palliative care into the American nursing curriculum - for which there's a great need.
PORTLAND, Ore. (PRWEB) September 29, 2015
Cambia Health Foundation is investing nearly $800,000 to develop an innovative online curriculum to integrate palliative care in undergraduate nursing education across the nation. The online format will make the End-of-Life Nursing Education Consortium (ELNEC) curriculum equally available to students in rural areas and help standardize palliative care nursing education. Initially the ELNEC curriculum is being introduced to 92 undergraduate nursing programs in Idaho, Utah, Oregon and Washington, before dissemination to nursing schools in all 50 states. ELNEC is a collaboration of City of Hope and the American Association of Colleges of Nursing.
The need for an online curriculum grew as shrinking nursing school budgets collided with an increasing demand for palliative care training and education, especially in rural areas where gaps in both training and care are more pronounced.
The curriculum equalizes access to students regardless of their geographic location, while also providing valuable, practical training through role play, videotaped clinical scenarios and interactive learning exercises.
"This investment aligns with Cambia Health Foundation's focus to increase access to palliative care in rural areas and strengthen the palliative care workforce nationwide," said Peggy Maguire, president and board chair of the Cambia Health Foundation. "This experiential, online curriculum, which ultimately will improve the care of our most seriously ill patients, reaches the intersection of innovation, compassion and leadership in our journey to improve health care."
"This grant is a vital step in integrating the specialized knowledge and skills of palliative care into the American nursing curriculum – for which there's a great need," said Betty Ferrell, Ph.D., R.N., professor and research scientist at City of Hope and the project's principal investigator. "The health care environment has changed dramatically over the past 15 years with new graduates expected to have proficiency in palliative care to assist the ever growing population of elderly people living with serious illness."
The online curriculum supports recommendations made in the 2014 Institute of Medicine report "Dying in America," which illustrated the gap between what services are available to individuals and what they want, and highlighted the critical need for additional palliative care training amongst health care professionals.
The curriculum was developed through the work of nationally recognized palliative care experts, focusing on core areas in end-of-life care reflecting AACN's 1998 publication, "Peaceful Death: Recommended Competencies and Curricular Guidelines for End-of-Life Nursing Care." Other landmark documents used in developing the curriculum include the 2013 National Consensus Project's Clinical Practice Guidelines for Quality Palliative Care, and the 2013 Institute of Medicine Report "Delivering High Quality Cancer Care: Charting a New Course for a System in Crisis."
The grant will also support work by Drs. Betty Ferrell and Polly Mazanec to evaluate the current status of nursing education and update the "Peaceful Death" document," by convening nurses, thought leaders and educators for a summit October 20-21 in Portland.
"While the original 'Peaceful Death' document focused on end-of-life care, this project will focus on the importance of integrating palliative care early in the illness trajectory," said Pam Malloy, RN, MS, of the American Association of Colleges of Nursing, and co-investigator on the project with Rose Virani RN, MHA, City of Hope, and project director of all of ELNEC since its inception.
About the American Association of Colleges of Nursing
AACN is the national voice for university and four-year college education programs in nursing. Representing more than 760 member schools of nursing at public and private institutions nationwide, AACN's educational, research, governmental advocacy, data collection, publications, and other programs work to establish quality standards for bachelor's- and graduate-degree nursing education, assist deans and directors to implement those standards, influence the nursing profession to improve health care, and promote public support of baccalaureate and graduate nursing education, research, and practice. http://www.aacn.nche.edu
About Cambia Health Foundation
Cambia Health Foundation is the corporate foundation of Cambia Health Solutions, a total health solutions company dedicated to transforming the way people experience the health care system. A 501(c)3 grant making organization, the Foundation partners with organizations to create a more person-focused and economically sustainable health care system. The Foundation's priority is to invest in improving quality and access to palliative care, and increasing general awareness of the importance of palliative care to seriously ill patients and their families. http://cambiahealthfoundation.org/
About City of Hope
City of Hope is an independent research and treatment center for cancer, diabetes and other life-threatening diseases. Designated as a comprehensive cancer center, the highest recognition bestowed by the National Cancer Institute, City of Hope is also a founding member of the National Comprehensive Cancer Network, with research and treatment protocols that advance care throughout the nation. City of Hope's main hospital is located in Duarte, California, just northeast of Los Angeles, with clinics throughout Southern California. It is ranked as one of "America's Best Hospitals" in cancer by U.S. News & World Report. Founded in 1913, City of Hope is a pioneer in the fields of bone marrow transplantation and genetics. http://www.cityofhope.org/
About ELNEC
The End-of-Life Nursing Education Consortium is a collaboration of City of Hope and the American Association of Colleges of Nursing. The ELNEC project is a national education initiative to improve palliative care, internationally recognized as the leading source of palliative nursing education. ELNEC provides undergraduate and graduate nursing faculty, CE providers, and staff development educators, specialty nurses in pediatrics, oncology, critical care and geriatrics, and other nurses with palliative care training so they can teach this essential information to nursing students and practicing nurses.
###