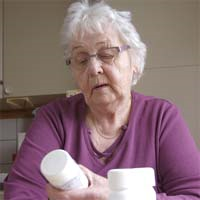 Patients and families should be encouraged to know that other similar drugs and drug combinations are still in the pipeline.
Raleigh, NC (PRWEB) September 30, 2015
Although a clinical trial of defactinib (VS-6063) for mesothelioma was shut down this week because of "futility", the jury is still out on whether the drug may work better in combination than by itself. Surviving Mesothelioma has more on the company's plans for defactinib. Click here to read the full article.
Verastem, the makers of the FAK-inhibitor defactinib, said in a statement that the trial of the drug as a single agent for mesothelioma was not having enough impact to justify its continuation.
"With the aggressiveness of this disease, the use of single agent VS-6063 as a maintenance treatment following chemotherapy where all patients had residual disease was not sufficient," explains Verastem Chief Medical Officer Lou Vaickus, MD.
But another mesothelioma trial that pairs defactinib with an FAK-inhibitor called VS-5584 is still recruiting patients and the company says there is evidence that the two agents may work "synergistically" to fight mesothelioma.
"Although this particular drug does not appear to prevent mesothelioma relapse by itself, it should be encouraging for patients and families to know that other similar drugs and drug combinations are still in the pipeline," says Surviving Mesothelioma Managing Editor Alex Strauss.
For more on this week's announcement and a better understanding of how FAK-inhibitors like defactinib are thought to work against mesothelioma, see Scrubbed Trial May Not Be the End for Mesothelioma Drug, now available on the Surviving Mesothelioma website.
"Verastem Stops Enrollment Due to Futility in the COMMAND Study of VS-6063 for the Treatment of Malignant Pleural Mesothelioma", Company Statement, Verastem website, September 28, 2015, http://phx.corporate-ir.net/phoenix.zhtml?c=250749&p=irol-newsArticle&ID=2090793