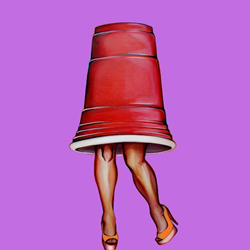 "Red Plastic Cup" is beyond fun.
Denver, CO (PRWEB) October 08, 2015
Colorado-born vocalist and dynamic performer, Turner Jackson is ready to release his brand new single "Red Plastic Cup". This musical genius is known for exploring his stylistic options and creating new and unique experiences with each and every release. This monumental track is primed to become the next big party hit across the country. The unveiling of this brand new single marks a moment in the performer's career that will set the bar for fans and contenders alike.
"Red Plastic Cup" brings light to a new side of Turner Jackson that is sure to impress. With the inclusion of live instrumentation and a fresh new sound, this release shows us that the performer means business. Jackson uses his unique vocal techniques and powerful voice to launch this song into orbit as we groove among the stars. The captivating dance beat and spectacular production quality are just the first elements which draw listeners into this sensation of a single. Provocatively playful verses lead you through the track until you return to the spectacular chorus that will leave you singing long after the track is over, taking party music to the next level.
Nostalgic of any college student's freshman year, this track signifies a true coming-of-age musical story. The single celebrates long nights and wacky adventures with lots of drinks and the best of friends. Remembering would-be lovers and lusts, Turner Jackson reimagines a younger self and produces a relatable story that everyone will love. The track is bound to be a hit on every college party playlist, sure to spark funky dance moves the moment it floods the room.
In the past, Turner has accompanied various musicians on stage around the Denver area, including Nas and Flying Lotus at Colorado's renowned Red Rocks Amphitheatre. Now touring with a three-piece band, Turner will be hitting each city with a level of strength and determination not often seen from performers of this genre. His musical presence will leave partiers across the country raising their red plastic cups to the splendor of a good night.