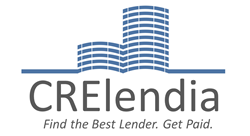 "[CRElendia] will likely grow to become a disruptive force in the process of sourcing and winning new client relationships."
Denver, CO (PRWEB) October 01, 2015
A new and innovative platform for commercial real estate (CRE) lending called, CRElendia, connects commercial lenders with borrowers through the borrower's broker.
Since the platform launch, brokers have used CRElendia to place over $100M in loan volume to multiple local and regional banks in Colorado alone. With more than 100 registered CRE brokers in Colorado, CRElendia expects to have over 500 registered brokers referring over $300M in loan volume in coming months.
If the loan funds through one of CRElendia's partners, the referring broker is paid 0.5% of the loan amount. One of the major attractions to this system is the referral fee paid to the CRE Broker does not cost the borrower anything. "The CRElendia platform is very dynamic and innovative," says Jim McPartlan, a CRE broker with KW Commercial Real Estate in Highlands Ranch, CO. McPartlan started using CRElendia back in June and has experienced numerous benefits.
"It's ingenious that I can search out different CRE lenders for my client's exact purchasing or refinancing needs. Then my clients can receive quotes from different lenders who will actively compete to provide them with the best option. It's a win-win to save my clients money on a deal thru CRElendia" adds McPartlan.
Lenders are realizing the benefits of becoming a CRElendia partner too. "I'm getting looks at new lending opportunities that we would not otherwise have seen" says Greg Davis, SVP & Colorado Market Manager of Colorado State Bank & Trust. "CRElendia is quickly becoming a significant source of new opportunities that are based on a set of criteria we have specified within their system. We compete only for the deals we want to pursue and only incur a cost if we win the business. This is helping to reduce our cost of acquisition and increase our efficiency. Their model will likely grow to become a disruptive force in the process of sourcing and winning new client relationships," adds Davis.
"CRE brokers are often asked for lending referrals from borrowers and CRElendia feels that the broker should get compensated for making a trusted referral to the appropriate CRE lender(s)," says Stuart Dobson, CEO of CRElendia. "CRE brokers use our system not only for purchase referrals but also for helping previous clients who may need help with a refinance," he adds.
CRElendia is an unbiased lending resource for brokers and their clients. CRElendia lowers the cost of obtaining a loan for borrowers and lenders and financially rewards brokers for making the referral. Brokers looking to help clients save money on a CRE loan and lenders looking to lower their cost of obtaining a loan can register on CRElendia.com.
Learn more here: CRElendia.com
CRElendia is headquartered in Broomfield, Colorado.