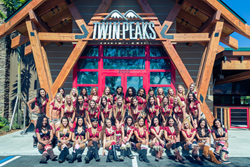 Davie, FL (PRWEB) October 01, 2015
Jafrejo Holdings, LLC the local Owners and Franchisee for Twin Peaks Restaurant in South Florida is looking for two (2) South Florida based charities to benefit from its annual Bra-Tacular Charity to be hosted at the new Twin Peaks Restaurant location in Davie, FL on October 20, 2015.
The Bra-Tacular event successfully raised over $350,000 last year from participating Twin Peaks locations across the country, helping dozens of charities and hundreds of women across the country to receive free mammograms and covering the costs of necessary treatment.
Since this is the first year that the event will be hosted at a Twin Peaks location in South Florida, Jafrejo Holdings is looking for organizations to write in or send a video to explain why their charity should be picked to benefit from this event.
The event will be held on Tuesday October 20th at the Twin Peaks Restaurant in Davie with dozens of Twin Peaks Girls participating in the modeling auction / fundraising event. Each of the Twin Peaks Girls has the opportunity to create and design her own bra to be auctioned off for charity. Jafrejo Holdings has announced that 100% of all proceeds from the event will be donated to the local charities.
"Every year this event continues to grow across the Twin Peaks brand and local group really excited be able to offer assistance to Woman's groups in South Florida," said Joe Sloboda COO of Jafrejo Holdings, LLC. "This is wonderful event where our girls get to model the bras that they have created and to help raise money for local charities, where we can directly benefit women in South Florida, so many of us in South Florida have been directly affected by breast cancer and we just want do our part to give back to the local community that has helped make our new restaurant such a success."
Jafrejo Holdings and DMD Restaurant Group owns the Davie and Fort Myers Twin Peaks locations and is currently under construction on 3 additional locations scheduled to be open in 2016. The company plans to open 16 Twin Peaks Restaurants across Southwest and Southeast Florida over the next five years.
If a charity is interested in benefiting from this event, please send an email or video to joe(at)jafrejo(dot)com, submissions will be accepted until Tuesday, October 6, 2015.
Twin Peaks currently has 72 locations nationally with plans for an additional 15 locations before the end of the year.
About Jafrejo Holdings, LLC
Founded in 2012 by Jack Flechner, Fred Burgess and Joe Sloboda, Jafrejo Holdings was created as the parent company to oversee the groups various restaurant brands and real estate development projects throughout the State of Florida. The company currently operates multiple locations of both VooDoo BBQ & Grill and Twin Peaks Restaurants with plans to develop additional locations throughout the State of Florida over the next 5 years. The company also has extensive real estate holdings in Miami-Dade, Broward, Palm Beach, Lee and Orange Counties.