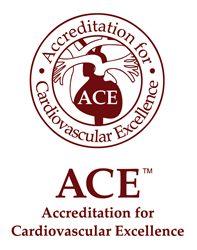 For our patients suffering from heart disease, ACE accreditation means that Baptist Health Paducah provides a gold-standard of care with a proven track record of prompt and appropriate treatment. -- William A. Brown, president of Baptist Health Paducah
Washington, DC (PRWEB) September 30, 2015
Accreditation for Cardiovascular Excellence (ACE) announced that it has accredited the percutaneous coronary intervention and cardiac catheterization facilities at Baptist Health Paducah, a regional medical and referral center in Paducah, Ky. The announcement reflects ACE's acknowledgment of Baptist Health Paducah for achieving high-quality standards of care at its facilities, as well as the growing recognition by hospital systems of the value of accreditation as a means to demonstrate quality assurance in cardiovascular care.
In addition, ACE announced the reaccreditation of the cardiac catheterization facilities at Forbes Hospital in Monroeville, Pa. Part of the Allegheny Health Network, Forbes Hospital first received ACE accreditation in [2013]. The Forbes reaccreditation follows ACE's recent announcement that the majority of its eligible voluntarily accredited facilities have obtained or are seeking reaccreditation.
"For our patients suffering from heart disease, ACE accreditation means that Baptist Health Paducah provides a gold-standard of care with a proven track record of prompt and appropriate treatment," said William A. Brown, president of Baptist Health Paducah. "This honor reflects the hard work and dedication of our physicians, nurses and staff. It is our privilege to continue to serve this region with the highest level of care possible.""
Baptist Health Paducah serves about 200,000 patients a year from four states. Baptist Health Paducah has the region's first heart center and accredited chest pain center, as well as the only certified stroke center and Neonatal Intensive Care Unit.
Come visit ACE at Transcatheter Cardiovascular Therapeutics (TCT) 2015, on October 11-15, 2015 at the Moscone Center in San Francisco, California. Be sure to attend the presentation by Dr Weiner, ACE's CMO:
Sunday, October 11

8:00 am – 12:00 pm: SCAI Cath Lab Boot Camp at TCT 2015
> 9:20-10:40 am: Session II. Cath Lab Quality
> 9:35 am: ACE and Quality: Is It Worth It for My Lab?
About Accreditation for Cardiovascular Excellence (ACE)
ACE is an independent organization sponsored by the Society for Cardiovascular Angiography and Interventions (SCAI). ACE offers independent evaluation and monitoring of facilities that provide cardiovascular care. By reviewing facility and operator performance and comparing clinical decision-making to nationally accepted best practices, ACE quality review and accreditation services play a critical role in continuous quality improvement programs. Learn more at http://www.cvexcel.org