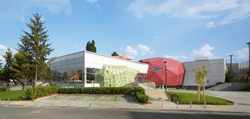 Children's museums provide effective informal education to growing minds. Our work in Bulgaria represents a very satisfying export of expertise and ideas cultivated in U.S. science centers and museums.
New York, NY (PRWEB) September 30, 2015
Following two years of development and international collaboration, Lee H. Skolnick Architecture + Design Partnership (LHSA+DP) has announced that MUZEIKO, the children's science discovery center the firm designed for Bulgaria, will open officially to visitors today. The first children's museum to be built in post-Soviet Eastern Europe, MUZEIKO represents the culmination not only this firm's decades of experience with museum and exhibition design, but also of the firm's collaboration with its client, the America for Bulgaria Foundation.
"The Foundation is delighted to work with Lee Skolnick and his talented colleagues," says Dessislava Taliokova, executive director of the foundation, "to make our dream of a children's museum for Bulgaria become a reality."
For the project, the America for Bulgaria Foundation engaged LHSA+DP for multiple related expert services, including site selection and design, museum architecture, science center programming and educational consulting, exhibition design, as well as brand identity, graphic design, signage and more. The firm, which has designed scores of children's museums, libraries and schools also provided interpretive services — a specialized approach for museum venues that transforms cultural and educational ideas into immersive, engaging experiences.
"It has been enjoyable and rewarding to collaborate across borders and languages to make Bulgaria's vision a reality, with a cultural and educational experience that reflects the country's new directions and vitality," says Lee H. Skolnick, FAIA, the firm's founding principal. "The greatest rewards will come when the first visitors experience MUZEIKO and the exhibit halls flood with children and families."
Conceived by the nonprofit America for Bulgaria Foundation, the project launched when the organization selected LHSA+DP on the heels of the firm's successful work on the DiMenna Children's History Museum, a major attraction within the New York Historical Society.
"A central focus of the America for Bulgaria Foundation is our support of Bulgaria's economic development and private sector," says Taliokova. "Muzeiko already has provided hundreds of jobs to Bulgarian companies, entrepreneurs, scientists and educators. We anticipate that it will become an engine of economic growth for our beautiful city and a popular tourist destination for children of all ages."
"The museum is also leading the revitalization of the Studentskigrad neighborhood in Sofia," she adds, "providing an example of a successful public-private partnership with the municipal government."
Culture as Catalyst
Among the foremost U.S. experts in the design of cultural facilities for children and families, Skolnick sees the 35,000-square-foot MUZEIKO as one of his firm's most significant achievements. "Children's museums are a fundamentally American invention that is now a global phenomenon," says Skolnick. "They provide effective informal education to growing minds. Our work on Muzeiko for the America for Bulgaria Foundation represents a very satisfying export of expertise and ideas cultivated in U.S. science centers and museums."
The design for the facility, adapted from a former university building site in Sofia, is marked by a distinctively modern look that takes inspiration from the mountainous topography of the Vitosha region of Bulgaria. Skolnick's team refers to the three distinctive and colorful articulated forms that seem to emerge from a shimmering rectangular glass box as "the little mountains." (The name MUZEIKO means "little museum," adds Skolnick.) Suggestive of geological formations, these faceted forms also echo the stunning hills and mountain ranges of Bulgaria: the Balkans, Pirin and the Rhodopes, among others.
This is one of many ways that Bulgarian history, culture and natural resources influence the design by Lee H. Skolnick Architecture + Design Partnership. The team of architects, interior designers and exhibition and graphic specialists have conceived the science center's personality to reflect Bulgaria's special character, beginning with the three major types of traditional Bulgarian crafts: decorative woodcarving, glazed ceramics, and textile embroidery.
Each craft is represented as a pattern on the facing of the "little mountains", which appear on both the outside and inside of the museum. In keeping with the wishes of the America for Bulgaria Foundation, which sought a distinctive, inventive design, Skolnick's design departs sharply from the country's traditional museum buildings, many built in the early 20th century with limited windows and in neoclassical styles.
The design of MUZEIKO, evoking transparency and lightness, offer views of the museum's offerings to passersby outside, and the interiors are full of highly immersive exhibits that transport children into outer space, into the earth and out into nature. "The glass box also lets museum visitors see in, both to entice visitors and to use the idea of transparency as a strong statement about seeing a new way in Bulgaria," says Skolnick, author of the seminal article "Culture as Catalyst" about the impact of museums and art on economic development. In this and other projects, the award-winning architect and designer focuses on telling the story of the people the museums and libraries serve.
For Muzeiko, that meant creating an unforgettable experience for Bulgarian children and families. The innovative discovery center presents interpretive exhibits and programs, featured throughout a spacious, three-level environment, that tell a story of the past, present and future of Bulgaria and the world. As an example, the main floor gallery focuses on the present day, through the natural environment, buildings and cities. The upper floor exhibits carry futuristic themes, displaying cutting-edge technology and space exploration among other subject areas, while the lower level features the past as represented by exhibits on geology, archaeology and paleontology.
"As you move through the building, you are moving through time and through the world, or space," says Skolnick. "It's about bringing together different subjects and content, yes, but we are weaving them together as part of a unified story about how the world works. And it's done in a way that all children from all cultures and countries can appreciate and understand."
Bulgaria and Beyond
The museum and science center offer a number of amenities including a café, a green roof with outdoor exhibits, an amphitheater, and a science-themed play area on its newly landscaped grounds. Located in the university precinct of Studentskigrad in Sofia, MUZEIKO was completed with assistance from Sofia-based A+A Architects and a team of local engineers and fabricators.
"Muzeiko is a gift to the people of Bulgaria, especially the children," says Bistra Kirova, Muzeiko's Executive Director. "The contributions of the team of designers and consultants led by Mr. Skolnick advance the Foundation's missions in the areas of education, the arts, and cultural heritage."
She adds, "We hope Muzeiko will become a must-visit attraction for Bulgarians and visitors, and that as it enhances Bulgaria's already rich cultural life and positively impacts our country's economy, more projects like it will begin to develop throughout Eastern Europe."
A 'soft' opening for Muzeiko began in August of this past summer. The official opening takes place today, September 30.
PRESS CONTACT: For more information, photographs and interviews,
contact Chris Sullivan at 914.462.2096 or chris(at)ccsullivan.com.
Local contact: Bistra Kirova, CFA, Executive Director, MUZEIKO - Children's Museum of Sofia, c/o America for Bulgaria Foundation, 6 Malyovitsa Str., Sofia 1000, Bulgaria, (359) 2 8063800 or (359) 887 712390 (cell), bistra(at)muzeiko.bg
About Lee H. Skolnick Architecture + Design Partnership (LHSA+DP)
Based in New York City, Lee H. Skolnick Architecture + Design Partnership is an award-winning, multidisciplinary design firm specializing in education, museum and corporate facilities, exhibits, interactive experiences and graphic identity. LHSA+DP believes that the ideal architectural experience tells a story, taking a person on a journey, expressing ideas, eliciting emotions and revealing knowledge. The firm was founded by Lee H. Skolnick, FAIA, author of What Is Exhibition Design? and a renowned conceptual thinker and accomplished architect dedicated to exploring the use of design as an interpretive tool that connects people and ideas. Recent projects include Rocket Park at the New York Hall of Science in Queens; Sony Wonder Technology Lab in New York City, the Summit Elementary School in Casper, Wyoming, as well as the Children's Library Discovery Center for Queens Library and the DiMenna Children's History Museum, part of the $60 million renovation of the New York Historical Society in Manhattan which both opened this fall. For more on LHSA+DP, visit http://www.skolnick.com.
About the America for Bulgaria Foundation
The America for Bulgaria Foundation (ABF) assists in strengthening a vibrant market economy and the institutions of democratic society in Bulgaria, helping the country to realize its full potential as a successful, modern European nation. The Foundation is a successor to the Bulgarian American Enterprise Fund, an investment fund created by the U.S. government acting through the U.S. Agency for International Development. The America for Bulgaria Foundation seeks to enhance the longstanding legacy of goodwill and friendship between the American and Bulgarian people and through many of its programs, to promote the US – Bulgaria people-to-people contacts and exchange of ideas and resources. The Foundation represents the generous face of the American people and embodies the highest standards of US ethical conduct, transparency, and core values. Visit http://www.americaforbulgaria.org