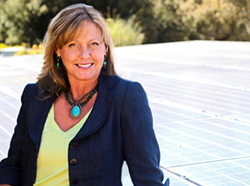 training makes us better, and we will make the solar industry better for it
Murrieta, CA (PRWEB) September 30, 2015
As the end of year approaches, solar companies nationwide are becoming increasingly eager to get their employees trained, tested, and ready for a monumental 2016. Ambassador Energy solar training staff is accommodating the surge by squeezing an extra PV class into the week of October 12 through 16.
"We have been spending most of our time in recent months training transitioning military service members and veterans," said Kelly Smith, president of Ambassador Energy. "We are in a crazy busy time right now for solar and getting calls from solar companies to help train their employees and new hires. While we have been very committed to training and facilitating job placement for veterans through The Veteran Asset, we are also making a concerted effort to assist solar companies in the private sector, who need to continue to keep their bar raised on solar knowledge.
"With an 11th-hour demand surge from our local solar market, we have decided to add a 5-day class to the October training schedule. Ambassador Energy is always happy to help the solar industry by turning out trained employees, whether veterans or from the private sector."
In every Ambassador Energy solar course, a strict curriculum is administered, including classroom coursework, 100's of quiz questions, break-out sessions, and hands-on labs. During the training events, even solar-seasoned students are expected to help build and dismantle a working solar PV system. On the final day of class, the North American Board of Certified Energy Practitioners (NABCEP) Entry Level Exam is proctored.
Smith added, "I was one of the solar-seasoned students several years ago. While I thought I knew solar well, I found that this class required my full attention. I am happy to report that I passed the exam, but I don't take my years in the business for granted. I encourage others in the industry to go in like a 'newbie', as they will absolutely learn new things and hone their skills. I think everyone in solar should participate in this kind of in-depth training. Training makes us better, and we will make the solar industry better for it."
COURSE DETAILS
Entry Level PV Design & Installation 5-Day Solar Training Course
In this Interstate Renewable Energy Council [IREC] accredited course, students learn how solar photovoltaic [PV] systems operate, as well as, basic system design and safety practices. The course covers basic electrical terminology, PV system components, solar fundamentals, sun path, basic system design, string sizing, site evaluation, shade analysis, system sizing, overcurrent protection basics, grounding basics, electrical and mechanical design considerations and OSHA safety standards.
To enroll in the upcoming October 12-16, 2015, go to Ambassador Energy College.
About Ambassador Energy (AE)
IREC-accredited training provider with staff certified as NABCEP PV Installers and NABCEP PV Technical Sales.* CSLB #928112: General Contractor B, C10 Electrician and C46 Renewable Energy, providing design and installation of solar PV and solar training throughout the U.S. *fulgham/kelso