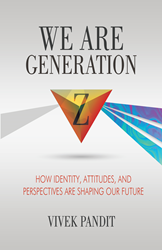 Our experiences have given us a unique perspective on global issues
Dallas, Texas (PRWEB) October 01, 2015
It's a question every parent asks at some point: "Why does my teenager act this way?" Often, it can feel like a constant struggle to get teens to behave or take a break from their technology. In this new era when our smart devices allow easy access to so much information, parents struggle with more than just the typical teen identity crisis.
In his first book We are Generation Z: How Identity, Attitudes, and Perspectives Are Shaping Our Future (Brown Books Publishing Group), author and high school student Vivek Pandit gives insight into the mind of today's teenager. He examines everything from technology to politics asking three questions: "Is there a deeper truth to the story?" "Is there a hidden motive to our behavior?" "Are there other perspectives to consider?"
Vivek uses his subtitle as a guideline, breaking the book up into three sections: Identity, Attitudes, and Perspectives. He believes all three words are important when attempting to understand Generation Z. This can go a long way in helping parents provide informed guidance.
"I hope it brings an unbiased look at our generation, dispelling any stereotypes that many have formed or, at the very least, understanding how the stereotypes were formed in the first place," said Vivek.
We are Generation Z offers a first-hand perspective about the way Generation Z thinks, acts, feels, and behaves. Understanding this vast portion of the American population will become increasingly important as members of Generation Z assume their roles in the marketplace and begin working with earlier generations to reach common goals.
"Our experiences have given us a unique perspective on global issues," Vivek explains. "We feel much more connected to the global community than others who have come before us, and in that regard, technology has brought us closer."
"One can argue that if there is a generation to help move mankind forward to truly believe that there is one race, the human race, Generation Z has the best chance of doing so," explains Bryan Mark Rigg, PhD, author of Hitler's Jewish Soldiers: The Untold Story of Nazi Racial Laws and Men of Jewish Descent in the German Military. "Vivek does a nice job of showing how it might accomplish this lofty goal."
For more information please visit http://www.WeAreGenZ.com