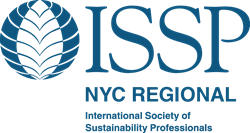 We support regional public policy and other NGO programs through our resources and the influence of our membership.
Hartford, CT (PRWEB) September 30, 2015
Members of The International Society of Sustainability Professionals in the Greater New York City area have founded a local chapter to help sustainability professionals advance the sustainability practices in the organizations where they work, study and volunteer, and to deepen understanding of these issues within the broader community. The new NYC chapter will host an inaugural event on October 14th, 2015 that will feature Dr. Allen Hershkowitz, Co-Founder and President of the Green Sports Alliance and renowned pioneer and leader in environmental responsibility.
"We are a network of professionals that shares best practices and discusses regional issues. We plan to use this as a forum for dialogue with other ISSP members and sustainability professionals in the Greater NYC Region as well as globally," said Mark D. Wolf, President of LMW Group, who is the Founder and Co-Chair of the ISSP Greater New York City Chapter. Additionally Wolf said, "We support regional public policy and other NGO programs through our resources and the influence of our membership."
Trisha Bauman, CEO and Founder of TJBauman and chapter Co-Chair said, "We look forward to face-to-face member interaction for peer knowledge sharing about the practical application of sustainability across industries as well as supporting current and emerging sustainability professionals."
The inaugural meeting of the ISSP Greater New York City Chapter will take place on Wednesday, October 14th, 2015 from 8:00 am -10:00 am ET at the New York City Bar Association Building on West 44th Street in New York City. Dr. Hershkowitz of the Green Sports Alliance will address the group about leveraging the cultural and market influence of sports to promote sustainable communities. For more information and to register for the event, please visit bit.ly/isspNYC.
Commenting on the formation of the ISSP Greater New York City Chapter, ISSP Executive Director Maureen Hart said, "We're pleased to see ISSP members who do business in one of the world's largest centers of commerce and culture come together to accelerate progress toward establishing sustainability as standard practice globally." In the past year, ISSP members in such diverse places as Washington DC, the Arkansas/Mississippi/Tennessee region of the United States and Indonesia have come together to meet and share ideas at the local chapter level. ISSP local chapters are currently being formed in Seattle, New Zealand and Australia as well. For more information about forming or joining an ISSP local chapter, visit http://bit.ly/1MuVEIT.
About The Green Sports Alliance and Dr. Hershkowitz
No other media platform has the cultural visibility and market reach of the sports industry. It is long overdue for the environmental community to strategically leverage that visibility to achieve ecological objectives. Accordingly, the Green Sports Alliance and its North American and international partners are strategically creating the worlds largest and most influential network of sports leagues, federations, teams, venues, businesses, and fans committed to addressing climate change and species loss. Alliance members represent more than 300 sports teams and venues from 20 different sports leagues and 14 countries, including the NBA, MLB, NHL, NFL, MLS, USTA, NASCAR and NCAA. The results include industry-wide greening programs that influence every sector of the global supply chain, save teams millions of dollars, avoid the release of millions of tons of carbon emissions and mobilize the green practices of hundreds of millions of fans.
Dr. Allen Hershkowitz is the Co-Founder and President of the Green Sports Alliance. During his 26 years as a Senior Scientist at the Natural Resources Defense Council, he was the force behind some of the organization's most effective and visible initiatives. As a pioneer and leader in the movement to make environmental responsibility understandable and achievable for every individual and institution, he has served as environmental adviser to corporations such as Dupont, Disney and Pepsi, to the Academy of Motion Picture's Oscars telecast, to the Recording Academy's GRAMMY awards and to the Broadway Green Alliance, of which he is co-founder. Dr. Hershkowitz has shaped public policy at the federal and international level. He appears often on CNN, ABC, NBC, CBS and NPR news and is regularly quoted in global media.
About ISSP
The International Society of Sustainability Professionals (ISSP) is the world's leading professional association for sustainability professionals. ISSP is a member-driven association committed to moving the profession of sustainability forward by leading the design and delivery of Sustainability Professional Certification, and by building strong networks and communities of practice. Webinars, online courses, a sustainability educational certificate, sustainability professional's body of knowledge, special reports, resource directories and salary surveys are just a sampling of the rich content offered to members. Formed in 2007, ISSP has nearly a thousand members from every region of the world. For more information about ISSP and its offerings, please visit http://www.sustainabilityprofessionals.org.