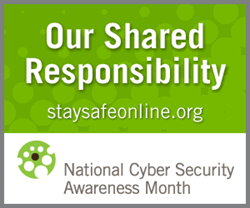 Utica, NY (PRWEB) September 30, 2015
National Cybersecurity Awareness Month starts October 1st and is in its 12th year of marking the collaboration between government and industry to provide the resources we need to stay safer and more secure online., Utica College will waive the usual application fee for its bachelors and masters Cybersecurity and Cyber Policy programs.
Utica will waive the application fee for applications to these three Cybersecurity programs, for the entire month of October, a savings of up to $50.
Why do data breaches continue to hit the headlines even as organizations put incidence response plans and IT teams in place? Join Professors Cindy Gonella and Leslie Corbo as they discuss using network forensics to discover vulnerabilities before the data breach and to help with recovery and infrastructure after a breach.
The complimentary webinar: The Investigation and Economic Impact of a Data Breach will be held on Thursday, October 22 at 7 p.m. EST.
Students can apply for the bachelors and masters Cybersecurity and Cyber Policy programs with a waived application fee here and visit https://attendee.gotowebinar.com/register/4458010946132150530 to register for the complimentary webinar.
About Utica College – Utica College, founded in 1946, is a comprehensive private institution offering bachelors, masters and doctoral degrees. The College, located in upstate central New York, approximately 90 miles west of Albany and 50 miles east of Syracuse, currently enrolls approximately 4,500 students in 44 undergraduate majors, 30 minors, 21 graduate programs and a number of pre-professional and special programs.