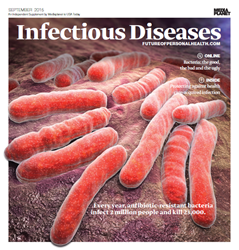 (PRWEB) September 29, 2015
The print component of "Infectious Diseases" will be distributed within this weekend's edition of USA Today, in New York, Chicago, Washington DC, Seattle and Philadelphia, with a total circulation of approximately 250,000 copies and an estimated readership of 750,000. The digital component is being distributed nationally, through social media and across a network of top news sites and partner outlets. To explore the digital version of the campaign, click here.
Director of the CDC Tom Frieden is featured in the centerfold of the print campaign. In an exclusive piece, he provides insight on how to prevent healthcare acquired infections (HAI) and superbugs. At any one time, 1 in 25 hospital patients gets at least one HAI. Many of these infections are resistant to at least one of the drugs commonly used to treat them. Many of the most urgent and serious drug-resistant threats are health care-associated infections.
This campaign was made possible with the support of Infectious Disease Society of America, American Society of Microbiology, International Society of Infectious Diseases, Centers for Disease Control and Prevention, Center for Infectious Disease Research, Quest Diagnostics, Merck, Opgen and Curos by 3M.
About Mediaplanet
Mediaplanet is the leading independent publisher of content-marketing campaigns covering a variety of topics and industries. We turn consumer interest into action by providing readers with motivational editorial, pairing it with relevant advertisers and distributing it within top newspapers and online platforms around the world.