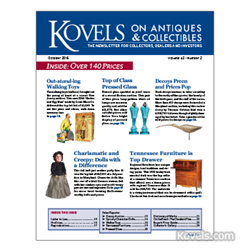 Cleveland, OH (PRWEB) September 30, 2015
Character dolls were auctioned in Maryland and Halloween-worthy examples with spooky faces are featured in a sale report in "Kovels on Antiques and Collectibles" October 2015 newsletter. See pictures, descriptions and prices of dolls with head-turning faces, including a German woman doll with sunken eyes and a world-weary expression that won the top bid of $47,600. Tin walking toys brought out the young at heart at a New Jersey auction, where a 1935 "Butter and Egg Man" by Louis Marx Co. delivered $1,560. Popeye, Amos 'n' Andy, Santa and other walkers are pictured with prices in Kovels' October issue. And Kovels' newsletter takes a gander at the wild prices for decoys sold at auction in Maryland, where two decoys flew away for more than $100,000 and 45 others for over $10,000. A decoy is valued by the rarity of the species depicted, the beauty of its pose, and the skill and fame of the maker. See priced examples of decoys by famous American carvers in the October issue.
Appreciation is rising for regional furniture that reflects unique designs and local traditions. An 1819 musical desk was the top seller at over $60,000 at a Tennessee auction that offered more than a dozen pieces of 19th-century Tennessee-made furniture. See cupboards, chests and pie safes, with prices, made by Tennessee cabinetmakers in Kovels' October newsletter. And Early American pressed glass in a variety of colors was auctioned in Boston, where prices went from just over $100 to just over $10,000. Jewel-toned examples of pressed glass lamps and vases are pictured with prices in Kovels' latest issue.
Terry Kovel goes "on the road" with a visit to the Cleveland Flea to hunt for bargains. The popular illustrated Collector's Gallery answers readers' questions about a Halloween devil's head candy container, German WW II tobacco cards, a toy tin fire truck, and a Tiffany & Co. silver hot water kettle. October's Dictionary of Marks lists trademarks found on American-made fruit jars. And prices of dozens of antiques and collectibles are listed in the Buyer's Price Guide.
"Kovels on Antiques and Collectibles" is available as a print subscription or as a digital version that is part of the Kovels.com Premium subscription.
Terry Kovel is America's foremost authority on antiques and collectibles. She is the well-known columnist and author of more than 100 books on antiques and collecting. With her daughter, Kim Kovel, she co-authors the best-selling annual "Kovels' Antiques and Collectibles Price Guide." The 2016 edition is now available at Kovelsonlinestore.com and local bookstores. They will discuss antiques and collectibles topics with accredited media. Photographs are available. Contact pr(at)kovels(dot)com.
About Kovels.com
Kovels.com, created by Terry Kovel and Kim Kovel, provides collectors and researchers with up-to-date and accurate information on antiques and collectibles. The company was founded in 1953 by Terry Kovel and her late husband, Ralph. Since then, Kovels' Antiques has written some of America's most popular books and articles about antiques, including the best-selling "Kovels' Antiques and Collectibles Price Guide," now available in its 48th edition. The website, Kovels.com, online since 1998, offers more than 1 million free prices, and includes a free weekly email, "Kovels Komments." It gives readers a bird's-eye view of the market through the latest news, auction reports, a Marks Dictionary, readers' questions and answers and much more.
Contact Information:
Liz Lillis
216.752.2252
Pr(at)kovels(dot)com