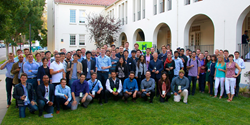 There is something very special going on at FOUNDER.org. The companies presenting to us were really impressive. Clearly Michael and his team are finding the best of the best innovations and ideas at top universities.
San Francisco, CA (PRWEB) September 29, 2015
On September 24- 26th, FOUNDER.org hosted 40 startups at their Q2 Forum in an intensive three-day event in the historic San Francisco Presidio. Every quarter FOUNDER.org, an investor in young innovators hosts a private quarterly forum for early stage startups, investors and industry experts.
Collaborating with leading universities around the world to drive innovation, FOUNDER.org engages with young innovators solving big world problems by providing these startups with investment funds, a year long education and hands on mentorship. FOUNDER.org teams participate in 8D, a framework of intense company-building challenges focused on the eight dimensions of scaling a company: idea, team, product, business planning, market development, customer development, operations, and fundraising.
"8D is a very comprehensive company building framework, which has helped us to keep a holistic perspective in developing our roadmap. For Audacy, 8D allowed us to confront any areas in need of improvement, scale faster as a result, and ultimately build a more robust company with the best possible probability of success." - Ralph Ewig, CEO of Audacy (Class of 2016 Company)
During the Q2 forum, startup teams worked on four live challenges including the Personal Communication Challenge, Market Engagement Challenge, A Player Team Challenge and the Investor Presentation Challenge. In each challenge, companies take part in activities that build a framework for scaling ideas into successful companies. The Personal Communication challenge featured insights into and practice for building credibility with an audience. The Marketing Engagement challenge introduces customer journeys as the replacement for the now defunct marketing funnel. The A Player Team challenge maps individual team member Thinking Styles into a holistic team overview indicating overall strengths and weaknesses.
"It's really impressive to see how far FOUNDER.org teams have progressed in a short period of time. These young innovators come to us with audacious world-changing ideas and it's super gratifying to see them scaling into real companies." said Michael Baum, CEO of FOUNDER.org.
This quarter's forum focused on fundraising with participation from FOUNDER.org alumni teams and Bay Area venture capitalists. Teams pitched to investors and held in-depth discussions on angel investing, corporate partners, venture capitalists, crowdfunding and government grants. In attendance were venture capitalists from Accel Partners, Columbus Nova Technology Partners, Foundation Capital, Sapphire Ventures, Signatures Capital, SoftTech VC, and Vertex Ventures.
During the group session on each day, the investor panelists gave insights into the state of the early stage investment environment, driving innovation, and the investment decision-making process at each of their respective firms. The investors answered candid questions from FOUNDER.org teams about why they say no to investments and what they enjoy most about working with innovative young startups.
"There is something very special going on at FOUNDER.org. The companies presenting to us were really impressive. Clearly Michael and his team are finding the best of the best innovations and ideas at top universities and their 8D challenges appear to be having a real and lasting impact on how these young teams scale their ideas," said Warren Weiss, General Partner of Foundation Capital.
About FOUNDER.org
FOUNDER.org invests in young innovators creating new solutions to big world problems. Whether it's food and agriculture, environment, health care, robotics, or space technology -- FOUNDER.org engages early in ideas that create a better world. The foundation collaborates with universities around the world to provide investment capital, education and mentorship to scale world changing ideas into high growth companies. FOUNDER.org was started by a team of Silicon Valley entrepreneurs who have built billion dollar companies and are now giving back to the next generation of young innovators. The foundation's mission is to get more young people building world changing companies. Learn more at http://www.founder.org.