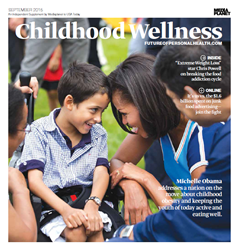 My interest in children's health began years ago with an eye-opening conversation I had with our family pediatrician
(PRWEB) September 30, 2015
Mediaplanet's first cross-platform edition of "Childhood Wellness" sheds light on the exciting movement our nation is currently making to combat this epidemic and its associated conditions, inspiring readers to continue making the right choices for themselves and their families when it comes to diet, exercise and overall health. For National Childhood Obesity Awareness Month, we will focus on what real families can do moving forward, despite the challenges that are built into our culture and lifestyle.
The First Lady, Michelle Obama, graces the cover of the print publication. Through an exclusive interview with Mediaplanet, she opens up about the challenges and rewards of pushing toward a healthier lifestyle. "My interest in children's health began years ago with an eye-opening conversation I had with our family pediatrician. He asked me what my family was eating and, as I answered his question, I realized that we really needed to make some changes—and so we did," she states. "Every single one of us has a role to play in addressing this challenge, and through Let's Move! we've brought together business leaders, medical professionals, educators, faith leaders, athletes, elected officials, parents and so many others to take on this issue in their communities. But while we've made some real progress, we still have a long way to go, and I plan to keep pushing forward on this issue—as First Lady and beyond."
The print component of "Childhood Wellness" is distributed within Wednesday's edition of USA Today in the Carolinas, Chicago, Dallas, Los Angeles, Nashville, New Orleans, Pittsburgh/Cleveland, St. Louis, and Washington D.C., with a circulation of approximately 450,000 copies and an estimated readership of 1,300,000. The digital component is distributed nationally, through a vast social media strategy, and across a network of top news sites and partner outlets. To explore the digital version of the campaign, click here.
This edition of "Childhood Wellness" was made possible with the support of First Lady Michelle Obama, Let's Move!, Chris Powell, star of ABC's "Extreme Weight Loss," Robert Wood Johnson Foundation, Alliance for a Healthier Generation, Partnership for a Healthier America, Clinton Foundation, Whole Kids Foundation, American Council on Exercise, American Diabetes Association, Nickelodeon, Family Medicine for America's Health, GENYOUth Foundation, ChopChopKids and many more.
About Mediaplanet
Mediaplanet is the leading independent publisher of content-marketing campaigns covering a variety of topics and industries. We turn consumer interest into action by providing readers with motivational editorial, pairing it with relevant advertisers and distributing it within top newspapers and online platforms around the world.