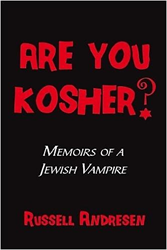 (PRWEB) October 01, 2015
Be one of the first to get a signed copy of "Are you Kosher? Memoirs of a Jewish Vampire," the first book of a comical trilogy by Russell Andresen. Enter the Goodreads Giveaway by Oct. 10 to win one of 10 hardback copies that will immerse readers in the crazy world of the immortal Izzy and all his life's contradictions.
Enter the life of Izzy Glassman. Kosher Jew by day. Blood-sucking vampire by night.
Being a Kosher Jew is hard enough, but being immortal and still living with your Bubbe and Mother, who are also immortal, only makes matters worse. In this full frontal assault on political correctness and common decency, Izzy shares his thoughts of observing and interacting with humans for nearly 6,000 years. He must also come to terms with the fact that his mere existence is a contradiction in this hilarious romp that received 4-1/2 stars from Amazon and 5 stars from Goodreads.
Visit https://www.goodreads.com/giveaway/show/153987-are-you-kosher-memoirs-of-a-jewish-vampire to sign up the grand giveaway.
The book is available for purchase at http://www.fantastikdreamzbooks.com/ as well as through Amazon and other online vendors.
About the Author: Russell Andresen was born and raised in Brooklyn, New York. At age 18, he went to work in the mailroom at the former 4 World Trade Center, where he discovered his love of commodities markets and the trading floor in general. He became a floor manager for a large options firm on the New York Mercantile Exchange, winning the Mock Trading competition of Financial Trader Magazine, and appearing on its cover in 1997. The author survived the Terror at the Towers bombing in 1993 and the attacks of 9/11. These left him suffering from PTSD and other physical ailments. He left the exchange in 2004 to study at the acclaimed Le Cordon Bleu Culinary College, graduating with honors in 2008. Andresen then worked for one of the largest caterers in the Southeastern U.S., and ran a restaurant for a large resort in Georgia. He released his first book "Are You Kosher? Memoirs of a Jewish Vampire" in August 2010 to great reviews from Amazon and Goodreads. In June 2015, he released "The Queen and I," a dark comedy, and the non-fiction book "A Crude World." He continues to write and is planning to release at least one new book in 2016.
Find out more at https://www.facebook.com/Are-You-Kosher-Memoirs-Of-A-Jewish-Vampire-111888578865800/timeline/ and follow the author on Twitter at https://twitter.com/RWAndresen1974?lang=en