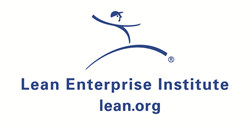 LEI's nonprofit mission is to make things better through lean thinking and practice.
Cambridge, MA (PRWEB) October 01, 2015
The nonprofit Lean Enterprise Institute will run workshops October 13-15, in Austin, TX, addressing a variety of skills needed by managers and executives who want to implement lean principles in manufacturing, service, or knowledge industries.
The sessions, which range from one to two days, will run from 8 a.m. to 4 p.m., at the Austin Marriott South hotel. The agenda is:

Change Agent Skills for Lean Implementation Leaders
Key Concepts of Lean
Lean Management System
Standardized Work: The Foundation for Kaizen
Managing Kaizen Events
Managing to Learn: The Use of the A3 Management Process
Value-Stream Mapping: a Methodology for Sustainable System Improvement
Understanding Lean Transformation
Complete details about content, instructors, and how to register are available at: http://www.lean.org/Workshops/WorkshopCalendar.cfm
Contact the registrar at (617) 871-2900 or registrar@lean.org.
About the Lean Enterprise Institute
Lean Enterprise Institute Inc., is a 501(c)(3) nonprofit based in Cambridge, MA, with a mission to makes things better through lean thinking and practice. Founded in 1997 by management expert James P. Womack, PhD, LEI conducts research, teaches educational workshops, publishes books and ebooks, and runs conferences to advance lean thinking and practice around the world. We support other lean initiatives such as the Lean Global Network, the Lean Education Academic Network, and the Healthcare Value Network. Visit LEI at http://www.lean.org for more information.