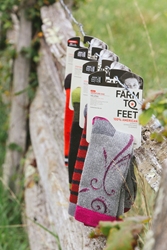 Mt. Airy, NC (PRWEB) September 30, 2015
Farm to Feet, makers of 100% American made socks, has been named a finalist in the 2015 Martha Stewart American Made Awards. As a finalist in the style category, Farm to Feet has qualified for the Audience Choice Award which is chosen by online popular vote.
"As a company that pride's itself on its 100% American product via a transparent US supply chain we are honored to be recognized as a finalist by Martha Stewart for the American Made Awards," said David Petri, Farm to Feet VP of marketing.
The public can vote online now up to six times a day until voting ends on October 19th. To vote for Farm to Feet and view their profile visit http://www.marthastewart.com/americanmade/nominee/136559.
Each year, Martha Stewart and the editors at Martha Stewart Living honor makers, small-business owners, and creative entrepreneurs in the fields of crafts, design, food, and style. In addition to the Martha Stewart American Made honorees selected by Martha Stewart and the executive editorial team of Martha Stewart Living, one Audience Choice winner will be chosen by the public.
The winner of the Audience Choice Award receives $10,000 cash and a trip to New York City for the Martha Stewart American Made Event on November 7th among other prizes. The winner will be announced on October 23rd.
To learn more about Martha Stewart's American Made Awards visit http://www.marthastewart.com/americanmade.
The Farm to Feet Fall 2015 Collection is available now at leading outdoor retailers nationwide and online at http://www.farmtofeet.com.
ABOUT FARM TO FEET
Farm to Feet™ is committed to the single, simple goal of creating the world's best socks by exclusively using an all-American recipe: US materials, US manufacturing, and US workers. With its supply chain completely within the U.S., Farm to Feet is able to ensure the highest quality materials and end products, while having as little impact on the environment as possible. Once the wool is grown and sheared in the Rocky Mountains, the remaining processes take place within 300 miles of its sustainability-focused knitting facility in Mt. Airy, NC. All Farm to Feet socks feature seamless toe closures, a comfort compression fit from the top through the arch, and superior cushioning for ultimate performance and comfort. Learn more at http://www.farmtofeet.com and join us on Facebook.