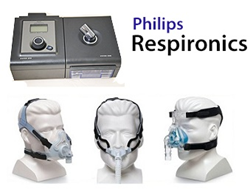 Las Vegas, Nevada (PRWEB) September 29, 2015
CPAP Store Las Vegas, a leading online provider of health equipment needed to treat sleep apnea, is proud to announce that it has included a varied selection of Philips Respironics CPAP machines and masks in its line of available products. A well-known manufacturer of CPAP equipment, Philips Respironics offers several innovative designs that offer efficacious performance while providing a comfortable fit with the masks.
Obstructive sleep apnea is a condition that causes a person to wake up due to a lack of oxygen created by the relaxation of the soft tissues in the airway. CPAP and BiPAP equipment is designed to provide a continuous flow of air that enables the person to keep breathing while they are sleeping. A physician determines which style of machine is best for the patient's needs, and a prescription is required for the purchase of a machine.
A representative of CPAP Store Las Vegas had this to say, "We recognize the emotions surrounding a diagnosis of sleep apnea. For some patients, it's a relief to find out that help is available to prevent loud snoring and wakeful nights. For other individuals, it can be upsetting to discover that they need to use CPAP equipment for the rest of their lives. Therefore, we try to make the purchasing process as easy as possible by offering an extensive selection of high performing machines and masks."
Philips Respironics machines are designed to provide quiet performance that is efficient and comfortable. Each piece of equipment is accompanied by a manufacturer's warranty. This equipment is styled with patients in mind, so it is designed to deliver a system that is easy to use, simple to clean, and easy to carry from one location to another. Humidifiers, which eliminate the concerns of dry mouth and irritated nostrils, are also available for purchase. All Philips Respironics masks and machines are manufactured in the United States.
About Cpap Store Las Vegas
Cpap Store Las Vegas operates as an online provider of medical-grade equipment designed for the purposes of treating sleep apnea. Its equipment includes CPAP and BiPAP machines as well as an expansive collection of masks, humidifiers, comfort accessories, and cleaning supplies. The current collection includes products from all major manufacturers, giving customers access to quality merchandise.
Cpap Store Las Vegas
Las Vegas, Nevada
1.844.222.1999 (phone)
cpapstorelasvegas.com
###