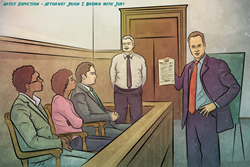 Jersey City, New Jersey (PRWEB) September 30, 2015
The JTB Law Group, LLC has created a site which will go live by October 7th, 2015 and will be dedicated to inform product users of IVC filters past and present of their rights. The site will feature an informational video, as well as a list of frequently asked questions and many other educational resources involving IVCs. The law office's primary site http://www.IFightForYourRights.com will still serve as the firm's primary site and until the new site is live individuals should continue to check there for updates regarding this matter. The new site is not live yet, but will be a dot.com site entitled IVCRIGHTS.
An IVC is an inferior vena cava (IVC) blood filters. On July 13th, 2015, The FDA warned about the use of IVC filters and its possible complications. (http://www.fda.gov/ICECI/EnforcementActions/WarningLetters/2015/ucm455224.htm). The FDA examined Adverse Event Reports from 2005-2010 and found, "921 device adverse event reports involving IVC filters, of which 328 involved device migration, 146 involved embolizations (detachment of device components), 70 involved perforation of the IVC, and 56 involved filter fracture." (http://www.fda.gov/safety/medwatch/safetyinformation/safetyalertsforhumanmedicalproducts/ucm221707.htm)
IVC filters are used to treat conditions such as pulmonary embolisms, colloquially known as "blood clots." The filter allegedly can lead to serious complications including death. According to the head of the firm, Jason T. Brown, "There's some common sense here which is a temporary filter should only be used temporarily. If it is left in for the long term, there are serious risks." Mr. Brown, a former FBI Special Agent and prominent trial lawyer encourages individuals who have immediate questions regarding their health to consult with their medical professional immediately. "Your health comes first," Mr. Brown stated, "but if you are going to have the product removed and have had consequences from it, you should also consult with a legal professional regarding preserving the evidence or you may lose your rights." His firm offers free consultations regarding the matter at (877) 561-0000 and will discuss free and confidentially with any individual who is affected or has information regarding the case.
About JTB Law Group, LLC
Jason T. Brown of The JTB Law Group, LLC has received numerous national awards and accommodations including Top 100 Trial Lawyer, Top 10 Attorney Award and Martindale Hubbell AV+ Preeminent, the highest rating possible by the esteemed peer-review service. This release may be considered attorney advertising. The firm takes cases nationwide and offers free confidential consultations at (877) 561-0000.