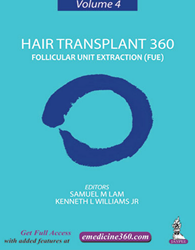 Los Angeles, CA (PRWEB) September 29, 2015
Dr. Parsa Mohebi, an internationally recognized hair transplant surgeon, is pleased to announce his writing contribution to the new textbook, "Hair Transplant 360 Follicular Unit Extraction (FUE), Volume 4" (now available from Jaypee Brothers Medical Publishing). Dr. Mohebi contributed to the textbook by authoring a chapter examining and explaining FUE terminology. The chapter spotlights the terms involved in the daily tools and techniques utilized in FUE transplant procedures.
The publication of "Hair Transplant 360 Follicular Unit Extraction (FUE), Volume 4" represents the completion of a project spanning two years and four volumes. The textbook also represents the only major textbook ever written on FUE. "Hair Transplant 360 Follicular Unit Extraction (FUE), Volume 4" is the first comprehensive book examining the subject of FUE.
While there are various hair transplant procedures available to the public, FUE is one of the fastest growing areas in the field of hair restoration. The publication of this textbook showcases the benefits of FUE and also provides insights into its terminology and technique. When asked about FUE earlier this year, Dr. Mohebi outlined some of the advantages of the FUE procedure. "If you want to shave your head at any point in your life, you will probably want to do a FUE procedure that removes the grafts one at a time and does not leave a long scar in the back. If you do not want to have a scar, FUE is the answer."
Dr. Mohebi, a Los Angeles based hair transplant surgeon, is an expert not only in the field of regular FUE but also Celebrity FUE Transplant. This is a limited FUE hair transplant procedure gaining popularity among celebrities who wish to keep their hair transplants anonymous. Dr. Mohebi's expert skills in the field of FUE transplants made him the ideal contributor to explain FUE terminology in a textbook aimed at both experienced physicians and newcomers to the field.
About Dr. Parsa Mohebi:
As former chairman of the FUE Research Committee and creator of several methods and techniques in modern hair restoration, Dr. Mohebi, along with his incredible staff, provides the most advanced techniques in the industry. Dr. Mohebi prides himself in advancing new research and developing the latest technology to improve the quality of hair restoration. The overall goal at his office is to restore patient's self-esteem through the use of quality hair restoration techniques.