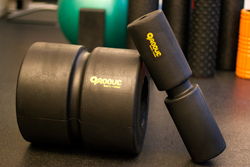 ...A few good minutes spent on the foam roller once or twice a day can go a long way in helping combat the physiologic strain on our bodies.
New York, NY (PRWEB) October 05, 2015
Dr Steven Shoshany, a top rated chiropractor in New York City, recently acquired a new type of foam roller, made to appeal to every segment of the population. While Dr Shoshany has been advocating and incorporating foam rolling and self care for myofascial release, he has come across some patients that find foam rolling with regular rollers to difficult or even too intense. He also works with geriatric and post surgical for whom foam rolling or massage might be contraindicated. Dr Shoshany has been a pioneer in the holistic approach to chiropractic medicine. He has been an advocate for incorporating many modalities to treat the causes of pain instead of the symptoms for many years.
Dr Shoshany feels that treating the spine with chiropractic adjustments, as well as the soft tissue of the body such as muscles and tendons has a better long term result in easing pain and ensuring recovery, and he has the track record, results and patient testimonials to prove it. He also feels that chiropractic treatment is greatly complimented by physical therapy and works alongside physical therapists in his downtown Manhattan practice. He feels that a new type of foam roller called the "groove foam roller" will allow even more people to ease in to the use of foam rollers, and even allow for those that may find it too uncomfortable to foam roll. This new roller will allow even the most hesitant people to start improving their mobility and improving their biomechanics, leading to better loading of the joints and easing discomfort. The groove, like it's name states, features a groove in the middle of the foam roller to allow room for the bony processes of the spine to stay off of the dense foam. The roller also comes in different sizes to allow for the performance of important core exercises.
Dr Shoshany is always excited to add new brands and builds of foam rollers and soft tissue mobilization tools to the vast array of soft tissue treatment modalities available at his Manhattan practice. He likes to be able to address any injury, and is driven to get to the root of the problem. Dr Steven Shoshany states "I have rarely seen truly isolated bone or tissue trauma. If any part of the body is hurt or impeded by pain or injury, there will be compensations and compounding of all sorts of other mechanisms by which the body adapts to injury. However, these are acute mechanisms similar to an adrenaline rush, to ensure that a person is able to get away from danger, or get to a doctor or hospital. Just because a person can continue to move, or can get used to pain, doesn't mean that things are going to be alright. Pushing through pain, or getting used to it is the equivalent of telling your body to break down other healthy tissue, to suit a limited form of movement. This is compensation and compounding in a nutshell, and very bad for the body in the long term. The body needs to be restored to its natural balance, a term chiropractors use to indicate a pain free, unrestricted state, where a person is able to go about their daily life without pain." One simple tool that Dr Shoshany has always recommended to his patients to keep their muscles happy, unrestricted and less prone to injury is a basic foam roller. A foam roller is a form of manual therapy that essentially kneads the muscle like dough to increase bloodflow, and ease soreness and refuse intramuscular adhesion and scar tissue formation. Dr Shoshany says that while it remains second to the work of a good licensed massage therapist (LMT), it is still an incredibly useful and affordable tool for reducing the chances of injuries. And when it comes athletes and weekend warriors, who are a big segment of his list of patients, he feels that it is absolutely essential.
Dr Shoshany can't say enough good things about the use of foam rolling in modern society. When asked to state why he feels that it is an especially important tool for people living in cities like NYC he says: "We sit all day, and its becoming an epidemic like smoking. Sitting for long periods of time leads of physical de-conditioning, improper loading of the spine, bad posture, disc herniation, development of over and under active muscles, neck pain, etc. A few good minutes spent on the foam roller once or twice a day can go a long way in helping combat the physiologic strain on our bodies." Dr Shoshany maintains that an overall structural integrity of the body's movement system is central to optimal health and healing. Basic considerations like proper footwear and walking mechanics, posture, and adequate sleep are essential to staying active and healthy, but eventually all the preventative measures won't be enough to combat the everyday wear and tear on the body. Massage, physical therapy, chiropractic, and self care at home are becoming more vital in a city that requires an all out effort just to keep up.
Dr Steven Shoshany is always adding promising new technology and modalities to his New York City patients. For more information about Dr Shoshany, foam rolling , chiropractic, or any other treatments and techniques offered by Dr Steven Shoshany, visit http://www.drshoshany.com. For more information on "the groove" foam roller visit: thebackroller.com