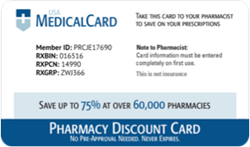 Destin, FL (PRWEB) October 01, 2015
November 1st kicks off open enrollment for many people across America, and the hard task of choosing the right prescription coverage. USA Medical Card, a leading distributor of free pharmacy discount cards, simplifies this process by providing a checklist that helps determine which prescription plan is the right one.
The first step that the company recommends is to make a list of the prescription drugs that are taken regularly. Then, with the help of a pharmacist, determine what the full retail cost of these medications would be for one year. Lastly, check with your current health insurance provider to determine if these prescriptions will still be covered next year, so there aren't any surprises.
USA Medical Card notes that, if medications are taken on a monthly basis, many times a low-cost plan does not always result in saving money. These lower tier plans tend to have a limited list of prescriptions covered and higher copays, which can result in high out-of-pocket expenses that add up quickly. It may be concluded that a more expensive plan with lower co-pays and prescription costs may in fact be less costly overall.
"Another option is to use our free card," said USA Medical Card Co-Founder and President Jordan Sessler. "It helps provide prescription discounts and can be used to complement health insurance plans, to help fill in gaps—no medications are excluded from possible savings, brand name or generic. As well, oftentimes the discounted price is lower than the copay. Anyone can get the card and it can instantly save up to 75 percent on prescription medications."
The pre-activated card is accepted at more than 60,000 pharmacies across the country—local, regional and national chains such as CVS, Costco, Target, Rite Aid, Walmart and Walgreens. To locate the participating pharmacy by zip code, go to http://www.USAMedicalCard.com/pharmacy-locator.
Eligible Rx medications include those frequently prescribed for psoriasis, heart disease, hypothyroidism, asthma, diabetes and other health conditions. The card is commonly used on Zolpidem, Amoxicillin, Lisinopril, Metformin and thousands of other popular medications.
A card can be downloaded at http://www.usamedicalcard.com or by texting USAMC to 95577. This short video explains the advantages of the card: http://www.USAMedicalCard.com/video.
About USA Medical Card
USA Medical Card is a privately held company that was founded to address the need for affordable prescriptions by the estimated over 100 million people in America with inadequate prescription coverage. The company reaches out to families, individuals and seniors who are most at risk, and whose health would be compromised without the value their pharmacy discount card provides. It is able to offer these significant discounts due to the negotiating power they have from partnerships established with leading Pharmacy Benefit Managers. Savings may vary by state, drug and pharmacy. USA Medical Card does not sell or share personal health information. The company adheres to the Health Insurance Portability and Accountability Act (HIPAA).
Media Inquiries: 1-914-629-0059