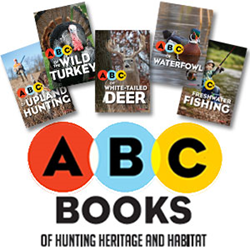 There is great need for books of this type for young readers interested in the outdoors.
Greenville, Ohio (PRWEB) October 01, 2015
A recent partnership between Miami Valley Outdoor Media and national organizations promotes reading and outdoor activities for young readers. The national initiative, ABC Books for Hunting Heritage and Angling Legacy, allows Miami Valley Outdoor Media to partner with major, national, conservation organizations to make new, high interest books available to young and even experienced readers. Miami Valley Outdoor Media's brand, Outdoor IQ, has launched a line of ABC books that align with the focus of each organization. Another benefit of the initiative is that proceeds from the sale of each book are donated back to the organization to support their youth programs. The authors and founders of Outdoor IQ are brothers, Dave and Steve Shellhaas. Dave states, "We are very excited to partner with these very respected organizations and to help support their youth programs and provide high interest books to children across the nation."
Outdoor IQ has written the "ABCs of the Wild Turkey" for the National Wild Turkey Federation (NWTF), the "ABCs of the White-­tailed Deer" for Whitetails Unlimited, the "ABCs of Upland Hunting" for Pheasants Forever, "ABCs of Waterfowl" for Delta Waterfowl, the "ABCs of North American Big Game" for the Dallas Ecological Foundation, and the "ABCs of Freshwater Fishing" for the Catch a Dream Foundation. These books are written to provide young children books they want to read, and also learn about the wonderful things each organization is passionate about.
Outdoor IQ also has another newly released title, the "Ultimate Youth Shooting Sports Guide." This book teaches youth about the various shooting sports available across the nation. The book also explains the equipment and skills necessary to begin or compete in air gun, small bore, and shotgun shooting sports. Outdoor IQ has partnered with Pheasants Forever and the Safari Club International Foundation to bring this one of kind book to youth across the nation. Portions of the sale of this book are also contributed back to Pheasants Forever and Safari Club International Foundation's youth shooting programs.
Steve points out, "We believe that this is the first book of its kind here in this country." "It was great to see the major youth shooting organizations, as well as the industry get behind this book. We had USA Shooting, Civilian Marksmanship Program, Scholastic Shooting Sports, 4H Shooting Sports, Boy Scouts, representatives from Daisy and Crosman, as well as many other shooting organizations provide expert input and content for the book." Dave added.
To find out more about Outdoor IQ offer, you can visit their website at http://www.outdoorIQ.org. A product guide is available at http://www.outdooriq.org/?p=1146.
Miami Valley Outdoor Media, Ltd., and its brand Outdoor IQ, is a small independent publisher that specializes in writing and publishing educational, outdoor books for children and youth.