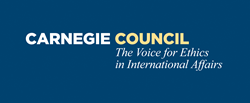 Carnegie Council works with some of the world's leading politicians, experts, and scholars on topics relating to ethics and international affairs.
(PRWEB) September 30, 2015
Carnegie Council for Ethics in International Affairs announces its line-up of public events for October. They offer a chance to hear some of the world's most expert and distinguished thinkers discussing the most pressing issues of our time, from ISIS to world hunger.
Unless otherwise mentioned, all events take place at Carnegie Council's headquarters at 170 East 64th Street, New York, NY 10065. Attend in person, or watch the Council's live webcasts at http://www.carnegiecouncil.org/live
Registration is required. For the full calendar and registration information, go to http://www.carnegiecouncil.org/calendar/upcoming.html
Thursday Oct 1, 6:00PM ET. A Conversation with Karenna Gore on Ethics and our Ecological Crisis
Karenna Gore and Stephanie Sy
Karenna Gore and the Center for Earth Ethics (CEE) see our ecological crisis as the consequence of a deeper malady: the dominant economic development agenda that results in the exploitation of people and nature for short-term and inequitable financial gain. So for real change to occur, a new paradigm based on the sustained well-being of all people and our planet must materialize. How are Gore and the CEE working to make this happen? What is the role of spiritual, indigenous, and religious communities?
Tuesday October 6, 6:00PM ET. ISIS: Inside the Army of Terror
Michael Weiss
With brutal force and horrific beheadings of hostages, the Islamic State of Iraq and Syria (ISIS) has shocked the world. It has conquered territory equal to the size of Great Britain--and promises to create a new Muslim caliphate under the strict dictates of Sharia law. How does ISIS recruit its jihadi army of international volunteers? Where do the key players, like elusive leader Abu Bakr al-Baghdadi, come from? And how has the movement attracted global support and financing?
Thursday October 15, 8:00AM ET. Doomed to Succeed: The U.S.-Israel Relationship from Truman to Obama
Dennis Ross
When it comes to Israel, U.S. policy has always emphasized the unbreakable bond between the two countries. Today, America's ties to Israel are so close that when there are differences, they tend to make the news. But it was not always this way. From Truman to Obama, what are the tumultuous debates and events that drove the policies and at times led to a shift in approach? Even though it has never yielded any benefits, why have several presidential administrations tried to distance the United States from Israel?
Thursday October 15, 6:00PM ET. Global Ethics Day: Feeding the Planet
Jessica Fanzo and panel--other participants to be announced
A day before World Food Day and Global Ethics Day, Global Poverty Project and Carnegie Council will host a comprehensive discussion on innovative solutions and the role of the global community to end hunger. A reception among young professionals, activists, and others will follow the panel discussion.
Friday October 16. Second Annual Global Ethics Day
Carnegie Council invites academic institutions around the world to use this day to hold events, such as lectures, film screenings, debates, panel discussions, or another educational activity to explore the idea of a "global ethic." In the tradition of a "teach-in" model, these events will be run by each institution as it sees fit while being part of a worldwide Global Ethics Day.
Founded by Andrew Carnegie in 1914, Carnegie Council for Ethics in International Affairs is an educational, nonprofit, nonpartisan organization that produces lectures, publications, and multimedia materials on the ethical challenges of living in a globalized world. For more information, go to http://www.carnegiecouncil.org