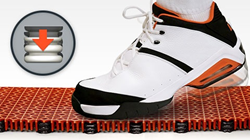 Our exclusive patented designs have exceeded the expectations of our customers all over the world.
Salt Lake City, Utah (PRWEB) October 01, 2015
SnapSports, the worlds leading manufacturer and supplier of modular sports flooring, was awarded an additional US patent for their ShockTower modular sports flooring technology. The new patent covers a multi-level support design which acts as a dual-stage vertical impact absorber, reducing fatigue and injuries to players during athletic play. This most recent patent awarded, is the latest of over 24 patents encompassing the SnapSports line-up.
The ShockTower® patented system incorporates sixteen independent shock absorbers, or ShockTowers, per square foot to dissipate sound and reduce stress on joints and muscles. Click here to view ShockTower action in slow motion. This modular floor system is manufactured with TWO distinctly different materials molded into ONE floor. ShockTower Technology is used in the SnapSports ¾" tall suspended sports floor system and, as tested by US independent laboratory tests, has the highest shock-absorption rating of any modular sports tile. The ShockLock® and Dual Suspension® systems allow for greater impact stability and superior performance during play. The under-structure of the modular sports surface provides a cushioning effect to help with the reduction of injuries and fatigue to athletes from high impact sports and increases ball response in sports like basketball, Futsal®, team handball, inline hockey, tennis, and volleyball.
"We believe we manufacture and supply the best modular sports flooring systems available today. Our exclusive patented designs have exceeded the expectations of our customers all over the world," said Jorgen Moller, CEO of SnapSports.
For decades, the family at SnapSports has been well known for continuous innovation and setting the gold standard for modular sports flooring performance and safe play technology. As the official surface of many of the worlds top sports organizations, we asked a few why they chose SnapSports over the competition:
"Over the years, we've used nearly every indoor modular surface, but SnapSports athletic surfaces are the best in the industry. These young athletes can play upward of a dozen times during an event, but with the incredible structural support of ShockTower®, the players are never fatigued from floor impact." - Matt Williams, AAU, Second Vice President, 'Jam On It' President
"When it comes to NBA player/fan events, quality, performance, and safety are key. SnapSports surfaces are high performance courts and the NBA is excited to partner with SnapSports for the NBA Nation Tour and All-Star Jam Session." - Patrick Sullivan Vice-President Events, NBA
"With over 5,000 participating athletes at each event, I rest assured that not only are we providing a surface that exhibits superior ball play, but we are providing the safest sports flooring available. SnapSports® has manufactured it's Indoor ShockTower®, a high performance sports flooring system with an incredible level of protection from injury upon player impact that U.S. Futsal® is proud to endorse." Alex Para, President USFF
SnapSports is recognized as the global leading manufacturer and supplier of premium indoor modular sports surfacing and outdoor athletic courts for both the residential and commercial marketplace. SnapSports manufactures 24/7 in their 150,000 square foot ISO 9001:2008 Quality certified facility in Salt Lake City, Utah. SnapSports is the Official surface of The United States Futsal Federation, AAU Basketball Jam On it, AAU All Under one Roof, NBA3x, The Big South, NBA Jam Session, NBA Nation, NBA House, and USA Team Handball. SnapSports is an official FIBA Technical Partner and has been a proud partner of The Special Olympics, The National Veterans Wheelchair Games, The Volleyball Festival, Gus Macker 3x3, The Vanilla Ice Project, World Police & Fire Games and The National Collegiate Roller Hockey Championship to name a few. SnapSports surfaces are proudly made in the USA and played on around the world.