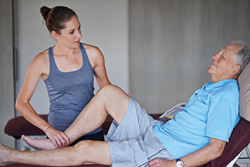 After some physical therapy and massage therapy with Family & Nursing Care, my sister has gone from being completely wheelchair bound to sitting and standing alone. It's so rewarding to see her regain her independence." Nessa S., Chevy Chase, MD
Silver Spring, Maryland (PRWEB) September 30, 2015
September is Fall Prevention Month, a time when awareness is heightened, of the risk and prevention of falls, especially in the senior population. As a pioneer in the aging care industry, Family & Nursing Care is offering a unique therapeutic massage program designed specifically to help decrease falls in older populations. According to a 2012 study by the International Journal of Therapeutic Massage and Bodywork* therapeutic massage, given for 1 hour each week for 6 weeks, resulted in immediate and long-term improvements in balance and stability.
While there are many places to get a massage, only Family & Nursing Care has a program specifically dedicated to fall prevention. A therapeutic massage with Family & Nursing Care can be customized specifically to relieve pain, including pain from arthritis, improve circulation, increase range of motion, help muscle imbalance, and enhance gait and movement confidence, all of which can help reduce the risk of falls.
Family owned and operated as the most trusted resource for in-home care services since 1968, Family & Nursing Care is also the nation's expert in Therapeutic Massage for older adults. "We revolutionized home care for aging adults almost 50 years ago, and we've never stopped looking for ways to help you and your loved ones get the most out of life." says Family & Nursing Care Founder, Sandy Kursban. For Service and 24/7 information call (301) 588-8200, or visit the web site.

###
About Family & Nursing Care
Since 1968, Family & Nursing Care has sought to be the premier provider of in-home services for older adults, dedicated to and recognized for our passion and commitment to serve, help, and enhance the quality of life and well-being of others. The company responds to families' home care needs when they need it for as long as it is needed. As a pioneer in the aging care industry, Family & Nursing Care enhances the quality of life of older adults with customized services including personal care, companionship, therapeutic massage and more. For more information, please go to http://www.familynursingcare.com.