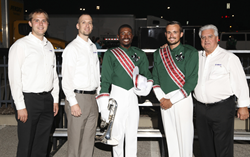 "Just a tiny missed beat can throw everyone off so you learn to never accept anything less than your goal and never give up, which is a cool trait to teach people," said Michael D. Collins, Madison Scouts.
Buena Park, CA (PRWEB) September 30, 2015
Yamaha announced that it has awarded three Yamaha Music Educator's Scholarships to members of the Madison Scouts and the Cavaliers, two of the company's Drum Corps International (DCI) partners. Two members of the Madison Scouts and one member of the Cavaliers have been chosen due to their demonstration of leadership ability and good citizenship, along with a commitment to music education.
Nicholas Gigante of the Madison Scouts won the percussion scholarship this year. Nicholas is a senior at the University of South Florida in Tampa, where he studies music education, percussion and viola. His goal is to be a band or orchestra director and he also plans to attend graduate school and earn a doctorate in conducting.
Playing in his high school theater ensemble "opened my eyes to the musical world and made me want to teach music," said Nicholas. "Seeing the faces of my ensemble after a good performance and watching how close everyone became throughout the season inspired my career choice."
Michael D. Collins, who played the mellophone with the Madison Scouts the last two years, is this year's brass scholarship winner. He is a senior at Middle Tennessee State University, where he studies music education and plans to be a high school band director.
"Music teaches a strong work ethic and how to strive for perfection, which is difficult, but that is something I learned in drum corps," he said. "Being successful comes down to attitude and I want to teach people that music is very expressive, so if you can't speak to others and you hold things in that you need to get out, I want to teach how to express feelings."
Yamaha Percussion and the Madison Scouts have enjoyed a relationship since 1984, the longest instrument sponsorship between any company and a DCI drum corps. Beginning in 2006, the corps began performing with Yamaha brass instruments and added a Yamaha PA system and electronic percussion along the way.
This year's scholarship recipient from the Cavaliers is percussionist Andy Brown, who served as drumline section leader and is a senior at Michigan State University, where he plays for the Spartan Marching Band.
"Precision on a drum line is key; the playing is either acceptable or unacceptable, there's no in-between," he said. "Just a tiny missed beat can throw everyone off so you learn to never accept anything less than your goal and never give up, which is a cool trait to teach people."
Andy teaches private lessons and plans on pursuing music "in some way or shape for the rest of my life," he said. "I would like to give back to the activity by teaching somewhere."
Yamaha and the Cavaliers have enjoyed a fruitful partnership since 1987, when the corps began playing Yamaha percussion. They have performed with Yamaha brass instruments since 2001 and also use a Yamaha PA system, acoustic drum set and electronic percussion.
About Yamaha
Yamaha Corporation of America (YCA) is one of the largest subsidiaries of Yamaha Corporation, Japan and offers a full line of award-winning musical instruments, sound reinforcement and home entertainment products to the U.S. market. Products include: Yamaha acoustic, digital and hybrid pianos, portable keyboards, guitars, acoustic and electronic drums, band and orchestral instruments, marching percussion products, synthesizers, professional digital and analog audio equipment, Steinberg recording products and Nexo commercial audio products, as well as AV receivers, amplifiers, wireless multiroom audio systems, Blu-ray/CD players, earphones, headphones, home-theater-in-a-box systems, sound bars and its exclusive line of Digital Sound Projectors. YCA markets innovative, finely crafted technology and entertainment products and musical instruments targeted to the hobbyist, education, worship, professional music, installation and consumer markets.