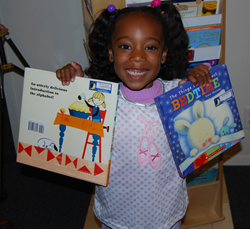 The gift of a new pair of pajamas and book can provide children in need with a glimmer of hope and a feeling that someone cares about their well-being.
New York, NY (PRWEB) September 30, 2015
In 2013, Pajama Program launched a two-year campaign, One Million Good Nights, which will conclude on December 31, 2015. One Million Good Nights is a nationwide initiative with a goal to collect one million new pajamas, one million new books and the resources needed to get them in the hands of young children and teens in need.
October 1 marks the start of "Danger Season" – the time of year when temperatures around the nation begin to drop leaving underserved children in dire need of warm sleepwear and comfort. With three months to go, Pajama Program is on track to achieve its goal with 919,787 pairs of pajamas and 804,567 books collected to date but needs all the support it can rally in these final 90 days to ensure that it does.
"The gift of a new pair of pajamas and book can provide children in need with a glimmer of hope and a feeling that someone cares about their well-being. In the boxes of pajamas and books we send out every day, we are packing comfort, compassion, affection, hope and a loving reminder to each child that s/he is not forgotten, that s/he belongs," explains Genevieve Piturro, Pajama Program's Founder and Executive Director.
Carter's, Inc. has been Pajama Program's lead sponsor for the last six years and signature partner in the One Million Good Nights campaign since its launch. This year, Carter's has extended their in-store collection drive for Pajama Program's One Million Good Nights campaign. From November 2nd through December 31st, donation bins will be set up in all Carter's stores to collect new pajamas as well as monetary donations for Pajama Program.
"We are thrilled to partner with Pajama Program for the sixth straight year to ensure all children feel safe and loved at bedtime," said Michael D. Casey, Carter's, Inc. Chairman and Chief Executive Officer. "We are proud to support the One Million Good Nights campaign and encourage our customers to get involved in this worthwhile cause. Together, we can make a difference for at-risk children this winter."
Additionally, Scholastic has been Pajama Program's leading book partner since 2009. For the One Million Good Nights campaign, Scholastic Reading Club will be launching a national school drive to DONATE pajamas and books for Pajama Program. Beginning on October 12th through DECEMBER 18TH, Scholastic is asking schools to collectively donate 100,000 pajamas, and Scholastic will match the number of pajamas donated with new children's books (donated to Pajama Program). Furthermore, if the goal of 100,000 pajamas is met, Scholastic will donate an additional 100,000 books to Pajama Program. Schools can learn more about joining the Pajama Drive by visiting http://www.scholastic.com/pajamadrive.
"We are so pleased to be teaming up with Pajama Program once again to help make sure every child's bedtime includes a good book," said Judy Newman, President of Scholastic Reading Club. "We know that when children discover a book they love, they are motivated to read more, understand more and learn more. When that happens, everything becomes possible." Newman continued, "We are all going to pull together to make sure Pajama Program reaches its one million goal by the end of the year."
Furthermore, One Million Good Nights sponsor, Bob's Discount Furniture, is planning a fourth quarter in-store promotion for Pajama Program.
To follow are some unnerving statistics:

1 in 5 American children live in poverty – a higher rate than any other developed country except for Romania. (2013)
More than 16 million children in the United States – 22% of all children – live in families with incomes below the federal poverty level. (Source: National Center for Children in Poverty)
More than 3.5 million people are homeless every night, and 1.35 million are children. (Source: National Coalition for the Homeless)
Of the 31.1 million people living in poverty, more than 12 million are children. (Source: Open Door Mission)
The average age of a homeless person in the United States is 9 years old. (Open Door Mission)
In a recent interview with one of the Receiving Organizations that Pajama Program supports, a staffer pointed out that "The pajamas and books make [the children] feel 'normal,' like regular kids, like they are included in a normal part of life. Most of them haven't had what they'd call 'normal' experiences."
For more information about One Million Good Nights, please visit Pajama Program at: http://www.pajamaprogram.org or call its headquarters at 212-716-9757.
For media/press-related inquiries, please contact Marina Maib at Marina@aka-pr.com; (212) 989-3235 or Jeanine Pepler at Jeanine@aka-pr.com; (917) 797-0676.
Video: Pajama Program Presentation 2015
Pajama Program Photos
About Pajama Program
Pajama Program is a 501(c)(3) organization dedicated to delivering new, warm pajamas and books to children in need, many of whom are without parents and/or permanent homes. Pajama Program serves children ranging in age from newborn to 18 who live in group homes, shelters and temporary housing. Since 2001, Pajama Program has provided over 3 million new pajamas and books to children through 60 chapters across the United States. Pajama Program has received a 4-star rating from Charity Navigator, America's largest and most-utilized independent evaluator of charities. Pajama Program meets the Better Business Bureau's 20 charity standards, the highest ranking for non-profits.
About Carter's
Carter's, Inc. is the largest branded marketer in the United States of apparel and related products exclusively for babies and young children. The Company owns the Carter's and OshKosh B'gosh brands, two of the most recognized brands in the marketplace. These brands are sold in leading department stores, national chains, and specialty retailers domestically and internationally. They are also sold through more than 800 Company-operated stores in the United States and Canada and online at http://www.carters.com and http://www.oshkosh.com.
The Company's Just One You, Precious Firsts, and Genuine Kids brands are available at Target, and its Child of Mine brand is available at Walmart. Carter's is headquartered in Atlanta, GA. Additional information may be found at carters.com.
About Scholastic
Scholastic is the world's largest publisher and distributor of children's books, a leading provider of print and digital instructional materials for pre-K to grade 12, and a producer of educational and entertaining children's media. The Company creates quality books and ebooks, print and technology-based learning materials and programs, classroom magazines and other products that, in combination, offer schools customized and comprehensive solutions to support children's learning both at school and at home. The Company also makes quality, affordable books available to all children through school-based book clubs and book fairs. With a 95 year history of service to schools and families, Scholastic continues to carry out its commitment to "Open a World of Possible" for all children. Learn more at scholastic.com.