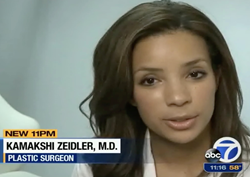 The 'Natural Breast Lift' puts unwanted fat to good use by making the breasts extra perky after breast implant removal.
Los Gatos, CA (PRWEB) September 30, 2015
"The trend among celebrities to get rid of their breast implants and return to a smaller, more natural look is also being seen in some of my Bay Area patients from all backgrounds who are deciding to downsize," says plastic surgeon Dr. Kamakshi Zeidler. "I perform a new combination procedure known as the 'Natural Breast Lift' to rearrange a woman's own breast tissue, combined with fat transfer to make it possible." Dr. Zeidler shows how this procedure helps to achieve the best results in this story from ABC News San Francisco. 
"According to the website 'Hollywood Gossip', "Teen Mom" star Farrah Abraham may have had her breast implants removed, as a recent photo shows her in a swimsuit with noticeably smaller breasts," says Dr. Zeidler. "Fox News reports that former 'Spice Girl' Victoria Beckham has gone down several cup sizes after having her implants taken out.
"I perform many breast augmentation procedures using implants and I also perform many breast implant removal procedures," says Dr. Zeidler. "To make the breasts look attractive after implant removal I perform a 'Natural Breast Lift' in a process known as 'auto augmentation' which uses the patient's own breast tissue to add volume, combined with fat grafting to fill out the top areas of the breasts. This is becoming a very popular technique for women who are tired of their old breast implants and want a smaller, yet more rejuvenated look."
"The fat grafting allows us to contour other parts of the body with liposuction and put that unwanted fat to good use by making the breasts extra perky after removal of implants," says Dr. Zeidler, who is a board certified plastic surgeon located in Los Gatos, CA. Dr. Zeidler sees patients from throughout the San Francisco Bay Area. For more information visit http://www.ZeidlerPlasticSurgery.com and call 408-559-7177.