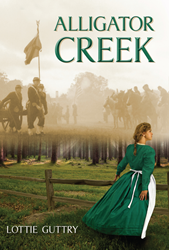 It illuminates the everyday lives of Civil War soldiers as well as the families who were left at home
Dallas, Texas (PRWEB) October 01, 2015
Author Lottie Guttry brings to life what Americans faced during the Civil War, exploring the effects of war, a family's story, and 19th Century lifestyles in Alligator Creek.
Guttry combines the stories of her own ancestors, Sarah and Alex Browning, and years of research to enlighten readers about what life was like during that period of civil unrest when brother fought against brother.
"This compelling novel is the product of impressive research. It illuminates the everyday lives of Civil War soldiers as well as the families who were left at home. The plot unfolds with great realism. Guttry shows that wartime did not always produce clean narratives and happy endings. Instead, it was messy and unpredictable," said Sean McMahon, Florida Gateway College professor of history.
Based on a true family story and documented history, Alligator Creek presents strong characters, who survived the unique and difficult period of the American Civil War. Sarah and Alex Browning lived in Lake City, Florida, during the 1860's, and Alex's recorded military service includes many of the most famous battles between the Generals Grant and Lee.
During her research for the book, Guttry discovered that the struggles and realities of war are timeless. She realized that even with modern advancements in weaponry and war strategy, the personal challenges faced by military and their spouses have not really changed much since that pivotal time.
"It is tragic and yet fascinating to learn that those who fought in the Civil War and the family members left behind share striking similarities in experiences, even though the time periods are more than 100 years apart," said Guttry. "During the Civil War, soldiers faced post traumatic stress disorder (PTSD), yet there was no formal name for it. The similarities also reached into extreme war conditions, guilt, loneliness, and families torn apart. Many soldiers who return home from the battlefield face personal battles to find comfort in their normal lives. Additionally, Guttry writes about the struggles of families left behind, making their way without their spouses and with the unending fear that their men may never return.
According to Guttry, the many adversities to overcome by those in the Civil War, and those who had family members in the war were a great inspiration to sharing her family's story in conjunction with her research. "My dearest dream is that the readers will love my characters and find inspiration in their courage, faith, and hope during one of American's most challenging times to thrive, fight a war, and raise a family," said Guttry.