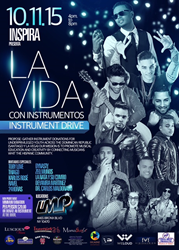 New York, NY (PRWEB) September 30, 2015
Latino singer/rapper Thiago will perform live at INSPÍRA's "La Vida con Instrumentos," a music-filled charity event to collect instruments and raise money for underprivileged youth in the Dominican Republic. The event will take place 4-8 p.m. on Sunday, Oct. 11 at Lo Maximo Production Studios (LMP) Studios in Bronx, NY.
Thiago's set will include his hit singles "Rio" and recently released "Cha Cha". The emerging pop star will share the stage with popular Latin recording artists including Toby Love, Karlos Rosé, 24 Horas, Dynasty, and more. "La Vida con Instrumentos" will also feature a live DJ plus meet & greet and photo opportunities with the artists.
This non-profit event strives to promote musical education and creativity within the Hispanic community by raising money to share the gift of musical instruments with disadvantaged children of the DR.
As an advocate for musical opportunities, aspiring artist Thiago supports the event's mission, looking back at his youth and musical dreams that are now a reality.
"Music has the ability to change lives," he said. "Giving instruments to these children in need may open the doors to inner talent and inspire them to follow their dreams."
Attendees are encouraged to donate an instrument or a minimum of $20 upon arrival. Sponsors of the event include Sam Ash, Cerveza Presidente, Jet Blue, and more. All proceeds and collected instruments will be distributed in the two largest cities of the Dominican Republic, Santiago and La Vega.
For more information regarding Thiago's performance and upcoming events, contact Oscar Amaya at (212) 810-0087 or email at amaya(at)frontlineagency.com.