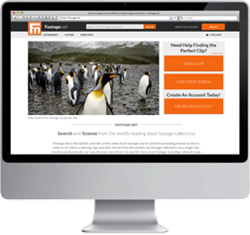 The new streamlined user interface, which came online in mid-August, makes it easy and intuitive for Footage.net users to proceed from a footage search to a footage purchase.
New York, NY (PRWEB) September 30, 2015
Footage.net has just completed a major redesign of its stock footage search and screening platform. The new streamlined user interface, which came online in mid-August, makes it easy and intuitive for Footage.net users to proceed from a footage search to a footage purchase.
Early results have been very encouraging:
> Record views on the site are up by 176%. Record views occur when a user opens a record to view more information about a specific clip or piece of footage.
> Clip views are up by 168%. Clip views occur when a user plays a clip.
> Buying actions (including shopping cart clicks, info requests and clip bin requests) are up by 357%.
> Clip shares (a new feature) went from zero in July to 98 in August. Clips shares occur when a user sends a link to a specific clip via email.
"Footage.net has always been dedicated to connecting footage buyers and footage providers," said David Seevers, Footage.net chief marketing officer. "Our new user interface takes users directly from our search results page or clip viewing window to a designated sales page on our partners' sites, providing users with a clear path from clip search to clip purchase and driving revenues for our footage partners."
How it Works
Once a user has identified a target clip, clicking on the associated shopping cart icon launches the designated sales page on a partner's site within an overlay window on Footage.net, through which the user can login to the partner's site and complete the transaction. The user can then return to Footage.net by clicking on the greyed area around the overlay to continue searching.
If a footage partner does not currently have e-commerce capabilities, clicking on the Footage.net shopping cart activates an info request window, allowing the user to communicate directly with the footage partner and determine how to purchase and obtain the footage.
Other New Features
The new site includes a host of new features and functions, all designed to improve user experience, expedite footage searches and drive revenues for Footage.net's partners, including:
Solr Search Engine
In addition to delivering fast search results, Footage.net's newly integrated Solr search engine can filter results by keywords, categories, dates and content partners, so users can plow through a huge volume of search results and find the shot they need. An open source enterprise search platform from the Apache Lucene project, Solr powers the search and navigation features of many of the world's largest internet sites including Netflix, eBay, eHarmony, WhiteHouse.gov and AOL.
Clip Overlay Screening
Clicking on a thumbnail now launches a clip overlay, allowing users to screen clips and navigate rapidly from clip to clip. Clicking in the greyed sections at either side brings the user back to the results page, ready for more searching.
Manage & Share Clips
To streamline the clip approval process, Footage.net has made it easier for users to save and share multiple clip bins. Users can also share individual clips by clicking the share clip icon, either from the record or clip overlay.
My Searches
To help manage the footage research process, the "My Searches" feature allows users to review previous searches, downloads, shares and ZAP emails.
Live Chat
Because users often need help finding footage, Footage.net has added a live chat feature, active from 9-5pm Eastern Time with a planned expansion in the near future.
Concierge Search
Coming soon, Concierge Search is a service where Footage.net staff will do searches on the Footage.net site and build custom clipbins for customers.
About Footage.net
Footage.net is dedicated to connecting footage customers with footage providers. We make it easy for creative professionals to search the world's top archives from a single site, and for footage providers to present their content to active footage customers. Now equipped with enhanced ecommerce tools, Footage.net's newly redesigned site provides a seamless pathway from footage search to footage sale. With 4.5 million online screening clips and over ten million detailed text records, Footage.net offers footage customers the tools they need to discover and obtain motion content quickly and easily. Our Global Search partners include some of the best-known companies in the stock footage industry, including AP Archive, Getty Images, ITN Source, FootageBank, Framepool, Historic Films and NBC News Archives, as well as some exciting new specialist collections, such as NatureFootage, Critical Past and Celebrity Footage. Footage.net is also home to the Zap Email, used every day by creative professionals to send footage requests instantly to over 50 top footage providers.