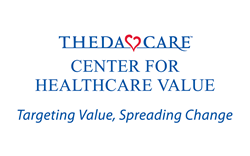 Appleton, Wis. (PRWEB) October 08, 2015
The ThedaCare Center for Healthcare Value welcomes Paul Pejsa and Thomas Hartman to its growing team. Pejsa is the new director for the Center's Healthcare Value Network, a peer-to-peer learning group which helps member organizations across North America learn, share and connect on the application of lean healthcare principles. Hartman takes on the role of executive coach. He will help the Center in coaching healthcare leaders and payers to radically improve healthcare quality and outcomes for patients and families, while reducing healthcare costs.
Pejsa, who takes over for previous director Mike Stoecklein, brings more than 25 years of experience in lean management.
"Paul's experience and history in developing and implementing lean change is an invaluable addition to our team," said Center Chief Development Officer Helen Zak. "His impact is going to be instant and not only benefit the Center as a whole, but specifically members within the Healthcare Value Network."
Prior to joining the Center, Pejsa served as executive director for continuous improvement at the BloodCenter of Wisconsin, where he led a team in the development of three continuous improvement systems: Strategy Deployment, Visual Management, and Daily Problem Solving.
"Transforming healthcare is truly the challenge for our generation to tackle," said Pejsa. "The members of the Center's Healthcare Value Network are committed to that challenge, and demonstrating how healthcare can deliver better patient outcomes and overall population health while simultaneously reducing costs."
Hartman adds further depth to the team as an executive coach, with more than 29 years of experience on the lean journey.
"Tom brings more than just experience in lean. He brings an overall vision to help guide organizations down the path of cultural transformation," said Zak.
Hartman spent the past 19 years as a senior executive with Autoliv, the world's largest producer of automotive safety products. He led and mentored organizations through the implementation and deployment of the Autoliv Production System — based on the Toyota System and culture — including three years working directly with a TPS Sensei (1998-2000).
"This is an exciting time for organizations looking to transform through lean," said Hartman. "The Center's in a great position to guide them through it."
ThedaCare Center for Healthcare Value
The ThedaCare Center for Healthcare Value is an education institute that believes we must have three essential elements for sustainable change in healthcare: Delivery of care designed around the patient; payment and incentives based upon value and outcomes; and transparency of performance (quality and cost) throughout the healthcare system. Founded in 2008 and headquartered in Appleton, Wisconsin, we are a small not for profit with a big mission to help change the healthcare industry. Learn more at: createvalue.org.
###