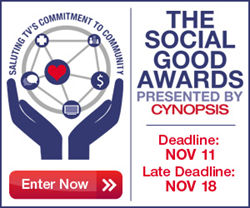 New York. NY (PRWEB) September 30, 2015
Cynopsis Media announced the launch of the Social Good Awards, honoring TV's commitment to community. Cynopsis is now accepting entries through November 11. Winners will be announced at a special awards event in March 2016 in New York City.
"Our community is a vibrant group of engaged professionals who are also civic-minded citizens who want to give back to the public through their profession," said Roberta Caploe, Cynopsis Associate Publisher. "We want to recognize that allegiance. With a panel of judges who'll benchmark excellence in the area of social good in the TV/entertainment industry, we will be honoring everything from sustainability partnerships and PSA's to diversity campaigns, environmental initiatives and more."
Presented by one of the industry's most-read and trusted brands, Cynopsis, the awards are open to all individuals and teams worldwide. The eligibility period is November 1, 2014-November 1, 2015. (Enter Online Now)
Spanning the spectrum of television, radio, and online platforms, the category list encompasses every aspect of the industry, including innovative linear TV, top digital content, savvy marketing, and more. To see the complete list of categories, go to the award webpage. Entry deadline is Wednesday, November 11, 2015.
Winners and honorable mentions of the program will be celebrated during an Awards event in March 2016 in New York City and profiled in a special edition of Cynopsis. For entry questions, contact Sarah Martinez at sarah(at)cynopsis(dot)com. For advertising or sponsorship information, contact VP of Sales & Marketing Mike Farina at mike(at)cynopsis(dot)com.
About Cynopsis Media:
Cynopsis Media is a division of Access Intelligence LLC. The Cynopsis Media family of products includes Cynopsis, Cynopsis Digital and Cynopsis Sports daily e-publications, weekly Cynopsis Jobs Advantage e-publication, Special eReports, Event/Summits and a strong database of Classifieds and more. Visit cynopsis.com.