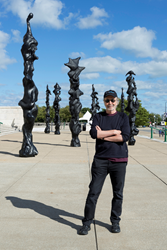 I started with three–foot totems, more symbolic, bouncing off what I had seen…but soon I took the work in more abstract directions and it became more like a jazz response.
Chicago, IL (PRWEB) October 01, 2015
Herb Alpert's famed Spirit Totems have found a new home at Chicago's Field Museum. Eight of black, bronze sculptures are on The Field's south steps, as well as an additional totem installation inside the Museum's main hall. The sculptures will be on display for a year.
Alpert's Spirit Totems have been described as "frozen smoke" and are touchable–a rare quality in bronze sculpture. Each individual piece takes about three months to complete and begins as a 10–inch hand–sculpted wax form, then to clay before being "transposed" into its larger, bronze incarnation (ranging from 13 to 18 feet tall).
Alpert says his sculptures were inspired by a visit to the Pacific Northwest in 2000 but explains that his work is not connected to the traditions that inspired him. "I started with three–foot totems, more symbolic, bouncing off what I had seen…but soon I took the work in more abstract directions and it became more like a jazz response."
Herb Alpert "totem's" photographs by Dewey Nicks