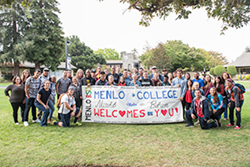 Atherton, California (PRWEB) September 30, 2015
Menlo College Professor Marianne Marar Yacobian, her Diversity in the Workplace class, members of the Black Student Union, and other Menlo students are raising funds and awareness for the Syrian refugee crisis.
The volunteer team at Menlo partnered with the International Rescue Committee to aid in grassroots efforts to alleviate the pain and suffering of Syrian refugees. Nearly five years after the outbreak of war, the International Rescue Committee has helped more than 3 million Syrian refugees and internally displaced people to recover and rebuild their lives. They provide medical and other critical aid, ensure refugees have access to legal counseling, and help women and girls who are victims of violence.
Dr. Yacobian and her students mobilized in honor of Aylan Kurdi, his brother Galip Kurdi, and the countless other children who have suffered in this humanitarian crisis.
Those interested in donating, can mail checks to:
International Rescue Committee
c/o Dr. Marianne Marar Yacobian
1000 El Camino Real
Atherton, CA 94027-4301
Make tax deductible checks out to the International Rescue Committee and please write DIY099 on the memo line.
About Menlo College
Menlo College was established in 1927 in Atherton, California as a small, private school that focuses on business education with a strong liberal arts emphasis. Located in the heart of Silicon Valley midway between San Francisco and San Jose, Menlo has been named among the "Best Colleges in the West" by The Princeton Review seven years running and a U.S. News "Best Regional College" for the last five years. http://www.menlo.edu